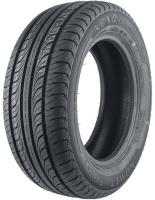 Kenda Komet SPT 1 KR10 Reviews (newest first) - Page 1
Given
77%
while driving a
Holden Calais 2003
(225/50 R16 V) on
mostly country roads
for 15,000
average
miles
Great grip in the dry and have at least half of the tread left after 25 thousand kilometers. Tyre noise is average and nothing unusual compared to others I've used, comfortable in 225/50r16 running at 40psi even on roads that have a lot of repairs, cracks and dips. Wet grip is acceptable but could be better, does slide a bit if you take roundabouts or corners with speed in the rain or on a fast takeoff, just learn to drive within its limits when its wet
Holden
(225/45 R17) on
mostly town
for 10,000
spirited
miles
For a cheap second grade tyre I found them above average.
My car was being modified and was off the road for 3years, when I got the car back the tyres still performed well, in fact they are still on now.
I drive a 430bhp V8 and they do a pretty good job in the dry, however they offer poor grip in the wet, the only drawback I find with them.
Will definitely consider buying them again.
Stuck to the road in all conditions, paired with a wide track these tires are absolutely brilliant. 10,000 km highway, sub-standard roads, dirt: I thought for sure I'd have some form of grief with them, but they're built to last and perform.
Given
76%
while driving a
Mitsubishi 380
(215/55 R17) on
a combination of roads
for 60
average
miles
Just clocked over 100,000 k's, brilliant wearing as long as you rotate.Probably get another 5 - 10,000 k's out of them.
Given
56%
while driving a
Fiat Bravo
(205/55 R16) on
a combination of roads
for 2,500
average
miles
Not a great tyre, cheap buy grip wasn't great on tight roundabouts or in wet.
Given
76%
while driving a
Porsche 944
(215/65 R15 V) on
mostly town
for 0
average
miles
Did 20.000kms on them and they still have plenty of 1000's of miles to go! Very good in dry...the size of the tyres was bdaly chosen since it gave a very 'baloony' drive to my Porsche 944. However they wear brilliantly since they were subject to a lot of grippy conrnering! In the wet they were poor...although a 944 RWD will never be great in the wet but the tyres could grip better I thought. For the price I believe they are very good value for money!