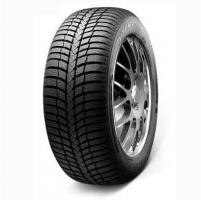 Kumho IZen KW23 Reviews (newest first) - Page 1
Just had these tyres out in the snow for the first time and was surprised how well they coped given that they were already fitted on buying a used car without anything like a full tread and I'd never heard of the manufacturer. If anything they seemed grippier in the snow than when in normal conditions (?!) though maybe speed is a factor there. No better than ok in normal conditions and very noisy. Skidded in wet once with tyre pressure down a bit so vital to keep on top of that. Probably as good as you can get for the price though.

Given
91%
while driving a
Ford Focus
(195/65 R15 T) on
a combination of roads
for 4,000
average
miles
I have read the reviews and decided that I must replace the front axle tyres with KUMHO .
I had TIGAR 1 91H before and driving through snow was terrible ,on ice trouble, wet spinning a lot, on dry not very fast.
Same car with KUMHO Izen23 (dot 2011 from a friend, 40% worn) different story . With snow I had no trouble, on ice much better, fast on dry pavement , fast on wet.
The tyres are heavy, sidewalls at 195/65/R15 not flexible but they delivered a no trouble winter driving experience.
This year 4 fresh KUMHO for my car absolutely
Given
100%
while driving a
BMW 318D
(195/65 R15 T) on
a combination of roads
for 0
spirited
miles
If you have questions about winter tyres just go and buy kumho kw 23 l'zen.Stop reading tyre tests or other things.Simply this tyres are the best , when other people just can,t drive or drive slow you can go like stink. Snow and ice are not a problem for you and believe me I drive a BMW wich was almost imposible to drive in winter until I discovered Khumo.For me these tyres outrun everything and believe me I had my car equiped whith much expensive tyres but these were nowhere as good as khumo.
Given
84%
while driving a
Skoda Fabia 1.9TDi
(195/50 R15) on
a combination of roads
for 0
average
miles
I bought four Kumho Kw23 winter tyres a few weeks and only past the few days only really shown how good their are. I live in a hilly part of Bradford and since I had a early start I thought I would try the untreated hill roads by me. I went up hills which I would have avoided with my usual tyres, I kept the traction button on but not once did the wheels slip. The roads has a covering off snow with a lot of ice about. I was not sure about spending £££ on winter tyres since for the past few years I have used winter socks but glad I did. Bought the tyres and wheels from Mytyres
I bought some of these for winter 2010 before the weather got really bad and I'm so glad I did. I've never used winter tyres before so I have nothing to compare to but compared with normal summer tyres they are a revelation. I used them throughout December and they got me to work everyday with no drama, great on the ice and snow and not really noticeably worse than my summer tyres in the dry and wet.
They felt much softer than summer tyres and absorbed bumps better, but the downside of this was a bit of steering feel was lost. No noticeable increase in noise or fuel consumption.
I've just bought another set for my new Volvo ready for the coming months before the prices of winter rubber sky rockets!
Fittted four of these tyres this winter because i was slow off the mark getting them last year on my punto and all i can say is buy some they are amazing on my little punto even with the thin wheels on is it scary in the snow and ice if you have never tried winter tyres get some kumhos i got mine from pellon auto centre dot com the guys there was really helpfull and they recommened these tyres over the more expensive.
Given
80%
while driving a
Vauxhall zafira 1.6
(205/55 R16) on
a combination of roads
for 2,000
average
miles
What a difference these make to getting around on the snow and ice. I replaced a set of Continental Premium Contacts which were just leathal in the cold conditions, come to that they weren't so good whenever there was slippery stuff around. With the Izens I can now negotiate the steep hill up to our road,going past less fortunate vehicles stuck (including a landrover) because of the icy surface. Coming downhill even better, where others including 4wd were sliding and broadsiding the IZens carried me down without drama. Like any other tyres black ice still presents a hazard. Have driven a few motorway miles in the wet with no problems. Too early to comment on wear but then again in the UK you are only going to leave these on for the deep winter months and have them off once the temperature starts to average above 7c. May seem like a lot to fork out for 3 months of use each year but if like me you live where the gritters don't visit then I sugggest you won't regret switching to these every winter and then storing them every spring.
These have been on my car for just over a month now so I can't really comment on the wear.
In the wet they aren't brilliant but neither are they terrible, and in the dry they have been perfectly adequate, but where they excel as you would expect is in cold and snow.
The past week has seen a lot of snow and these tyres have taken me places where the only other cars on the road were Landrover Defenders! You find yourself stuck behind cars without winter tyres wondering why they are going so slowly!

They don't offer much in the road feedback and handling stakes in the dry when you can push on a bit, they just feel a bit vague but this is not what you buy this tyre for. You buy it to get where you need to be in bad weather and at this they are brilliant at.
Given
85%
while driving a
BMW E46 3 Series
(205/55 R16 V) on
a combination of roads
for 2,500
average
miles
Fitted to rear of 320D for European trip mid December 2009. Michelin Alpines already on front. I was greatly relieved and surprised at how much grip these Kumhos gave. Had snow for whole trip and of course here in UK. My BMW left virtually all other cars standing. Went up icy slopes where I couldn't walk and other vehicles failed. I've ordered some for my wife's Corsa which at the moment is nowhere near as good in the ice and snow as my rear-drive BMW.