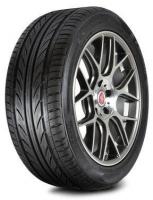 The Landsail LS988 is a High Performance Summer tyre designed to be fitted to Passenger Car
Show All
Tyre review data from 36 tyre reviews averaging 61% over 175,032 miles driven.
Latest Group Test Results
2014 Auto Bild 50 Summer Tyre Shootout - 31st of 50 tyres
View All Tests >>
Sorry, we don't currently have any label data for the Landsail LS988
Sorry, we don't currently have any questions and answers for the Landsail LS988. Why not submit a question to our tyre experts using the form below!
Ask a question
We will never publish or share your email address
Top Landsail LS988 Review
I do not really feel qualified to write this review as I an not a retired Formula One driver like the other reviewers on here, nor do I drive my car like a stole it, whichi is another great phrase I enjoy to read.
Despite my lack of driving skills I have not ended up in a ditch yet or had any real problems with these tyre, they are perhaps a little noisy but othe than that they are are a lot better than the Nankangs I had before.


Latest Landsail LS988 Reviews
Have you driven on the Landsail LS988 tyre?
Have YOU got experience with the Landsail LS988? Help millions of other tyre buyers
Given
36%
while driving a
SEAT ALhambra TDi
(225/45 R17 W) on
a combination of roads
for 7,000
average
miles
I've got a 7 seater so not the lightest of cars but when I've bought these Landsail tyres I thought that they'll last longer than 7000 miles.
Previously I had Nokian Weatherproof all season tyres and they've lasted about 30000 miles which was great .
For me it doesn't justify the hassle of changing the tyres every summer with these Landsail , very disappointed.
Grip on dry is average , on wet awful and since I got them I've noticed a vibration when driving at all speeds and done the wheel balancing twice , although there was no vibration with the Nokians .
Next I'm going to try the new Continental All Season tyres because a friend has them and he's very happy with them.
Had to replace all my tyres at each MOT test on yearly basis.
BMW
(225/45 R16) on
a combination of roads
for 6,000
average
miles
I replaced some very worn Dunlop and Avon tyres on my 2001 BMW Z3 with Ladsail LS988 tyres, supplied and fitted by Uncle Tom in Harlow,Essex, UK.
Extremely disappointed with the the wet grip of these tyres, bordering on dangerous.
The back of the car slides on corners a bends at relativity slow speeds. Luckily I have been able to correct the slide without a collision. I'm sure a touch of the breaks would cause a spin.
The old worn out tyres gripped much better.
i would have replaced these tyres with a better known make, but as I only do a couple of thousand mile a year in this car I just avoid using it in winter or wet conditions.
Driver: Ex Police class 1, IAM & RoSPA advanced driving examiner & corporate Chauffeur.
Car: Mercedes S320.
I drive between 20-30,000 miles a year with 80% being for business ie. car loaded with up to two passengers & luggage so I inflate the tyres accordingly. I fitted two new Landsails on the rear in Jan 2016 and two new on the front in July 2016, the rears are on the wear indicators now (2mm) and I've done 22,000 miles on them, excellent for a budget tyre. The fronts are both on 6mm and done
17,000 miles so expect them to come in at around 25,000 miles.
Just for the record in case your wondering I never go about 70mph, mostly on motorways at 60-65mph, drive like a chauffeur mostly, no harse braking, steering or acceleration- this is what will eat your tyres! I save on average 20% on fuel driving like this as aposed to the average driver. If this sounds good to you then join your local IAM Roadsmart or RoSPA group and earn about advanced driving.
Oh and don't forget the cheaper car insurance for doing so!
Happy driving.

Given
54%
while driving a
Audi A3 2.0 TDI 140
(225/45 R17) on
a combination of roads
for 6,000
average
miles
These were on my Audi when I bought it. Obviously the owner had gone budget for the replacement of the fronts as she had a pair of Hankook Ventus S1 on the rear which were half worn.
Dry grip in the landsail was average and reasonably progressive. Braking felt good, although through the corners would drift a lot (understeer) when pushed.
In the wet however these tyres were appalling. I only have the 140ps Audi but in second gear it was easy to spin without full throttle, and in corners had to be very gentle on the throttle or would spin up easily and understeer a lot. Very little progression in the wet as well.
Comfort wise these were average, but at motorway speed were much noisier than I'd like. Especially considering the A3 is already known for high levels of road noise.
Wear wise they were pretty good and seem to have outlasted the Hankooks.
I wouldn't buy them again as I thought the wet performance was just too poor, but being honest this is because I drive so few miles (3,000mi per year) that I can afford performance tyres as they last a long time for me and I prefer to be able to be 'spirited' in my driving if the occasion presents itself. I never had the feeling of security with the landsail to do this so I've upgraded to the Goodyear Asymmetric 3 for my new set of tyres.