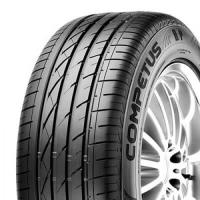 Lassa Competus HP Reviews (newest first) - Page 1
Given
82%
while driving a
Volvo XC60
(225/65 R18) on
a combination of roads
for 600
average
miles
Was doubious at first but had these fitted as I was told they are basically Bridgestone tyres. Up to now, they have been excellent and only the wear has yet to be proven. Up to now, I would recommend considering a 'known brand' could cost you half as much again, if not more.

Great in snow, very low road noise, look the part, great grip in the wet, don't impact on mpg and, stop just as good as the old P Scorpions that came off.
Given
30%
while driving a
Hyundai Santa Fe
(235/60 R18) on
mostly town
for 22,000
easy going
miles
Not impressed with the total tyre. Have only done 36k and worn out on our family car. Never buy again and am about to go back to my supplier and ask a few questions. Unable to find a tyre wear code anywhere on the tyres. Very unhappy user.
got some excellent advise and bought a set, seem to be very quite and a lot better than the kumo I had on