Linglong Winter Hero Radial 650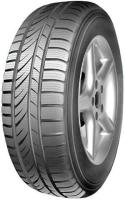 2015 Tyre Tests

2013 Tyre Tests

2012 Tyre Tests
Sorry, we don't currently have any label data for the Linglong Winter Hero Radial 650
Sorry, we don't currently have any questions and answers for the Linglong Winter Hero Radial 650. Why not submit a question to our tyre experts using the form below!
Ask a question
We will never publish or share your email address
Latest Linglong Winter Hero Radial 650 Reviews
Have you driven on the Linglong Winter Hero Radial 650 tyre?
Have YOU got experience with the Linglong Winter Hero Radial 650? Help millions of other tyre buyers
Given
21%
while driving a
BMW 320d 2010
(225/55 R16) on
a combination of roads
for 4,000
easy going
miles
Do not buy these tyres, absolutely the worst tyre on wet damp English roads I have used since x plies. I had them last year fo 4000 miles, and this will be the last year I use them. Never again. I cannot state strongly enough, do not buy these tyres. They wear well but at the expense of any grip.
I have had these tyres on the rear of my merc for a year now - I never took them off after winter 2012 as I just wanted to wear them out and get rid. But they refuse to die. 20k miles on the rear driving axle they still have 4mm tread left, from 8mm new. I have never known a tyre last so long - the longevity is because they do not grip, therefore they do not wear. My car is a modest 143bhp automatic c class coupe. standing start on a cold greasy road in november it spins the back wheels and slides from side to side - this is a tame auto! cornering is done cautiously - no confidence in grip. But in the snow they really do their job, see my review from last year when I fitted them, got me home in blizzard conditions. So will soldier on through winter then get rid at 2mm. On the plus side no punctures, no uneven wear, no imbalance, hold pressure. But they are noisy - slight drone like the rear diff is worn. For what I paid I cannot complain, the premium equivalent costs over double and would be worn out by now. If they gave more grip and confidence I would recommend, but as they are I would not recommend unless its snowing.
Given
53%
while driving a
Mercedes Benz
(225/45 R17) on
mostly motorways
for 0
easy going
miles
Fitted these to a rear wheel drive automatic merc. Jekyl and Hyde tyre. Poor grip in wet. Barely adequate in dry. But in the snow - what a difference. Got me home easily on two occasions where in the snow not even continentals would have moved the car. I paid £40 a tyre for these brand new. For the money, for winter, worth it. After the snow has gone, take them off and fit something better. For the life of me I just cannot understand how a tyre can grip on snow so well but on greasy wet roads had the back end stepping out - on a C180K ?!
The web site was asking for opinions so here is mine. Not may miles yet, only on car for 4 days. Immediate impression as good on damp road as Michelin, BUT quite noisy in comparison. I will report back after some use.