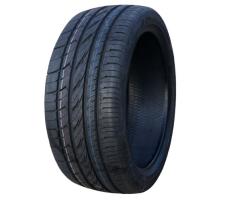 The Neuton NT8000 is a Ultra High Performance Summer tyre designed to be fitted to Passenger Car
Show All
Tyre review data from 32 tyre reviews averaging 80% over 230,381 miles driven.
Sorry, we don't currently have any magazine tyre tests for the Neuton NT8000
Sorry, we don't currently have any label data for the Neuton NT8000
Sorry, we don't currently have any questions and answers for the Neuton NT8000. Why not submit a question to our tyre experts using the form below!
Ask a question
We will never publish or share your email address
Top Neuton NT8000 Review
Given
43%
while driving a
Ford Mondeo Titanium X
(235/40 R18 W) on
a combination of roads
for 7,000
spirited
miles
Ok tyre in the dry, as long as it is warm. Awful wet/cold weather tyre, traction control kicks in under slightest acceleration, car slide on every roundabout in the wet, even at slowest speeds, ok if no one else on the road and you like visiting hedgebacks and bodyshop! I will never buy a budget tyre again.
Latest Neuton NT8000 Reviews
Have you driven on the Neuton NT8000 tyre?
Have YOU got experience with the Neuton NT8000? Help millions of other tyre buyers
I haven't had the tires very long but from what I have seen in the last couple hundred miles they seem to be doing well. I've driven on dry pavement and wet and extremely wet payment. The tires held their grip in all conditions. Of course that may change in time as wear occurs. I've read some of the reviews and couldn't help but Wonder does anyone realize these are directional tires? I had to inform the tire shop where I purchased them to make sure they had the outside to the outside. Some of the problems people are experiencing could very well be that the tires are not mounted properly.
Given
54%
while driving a
Subaru 04 WRX
(235/45 R17) on
a combination of roads
for 8,000
spirited
miles
I bought these tyres in the beginning of 2016. Grip in the first 5-6000km was good... They were soft. But now towards the end of 2017, they dried up pretty fast and grip is bad. Im getting the front wheelsto spin even on dry roads on a wrx ! Maybe its the asphalt to blame here in lebanon which is very 'not rough'. But that has nothing to do with the tyres becoming hard after 14000 kms. And they tend to understeer alot.
Tread is still good but grip in dry and wet is very bad.. changing them soon and will be trying Jinyu YU63.
But for the price i guess it is good but you can find better.
I don't recommend them.

Given
40%
while driving a
Vauxhall Vectra
(210/50 R17 W) on
a combination of roads
for 25,000
easy going
miles
Rubbish! I've used Retreads, Remolds and part worn tyres over the years and these are by far the worst tyres I have ever run on. In the dry they are ok, but in the Wet its a complete lottery. They have done 25k on the rear and have worn at exactly the same rate as the Goodyears on the front.
Please do not buy these tyres.
Given
96%
while driving a
Ford Transit Sport
(225/45 R17) on
a combination of roads
for 16
spirited
miles
I have been using these on my modified transit and have found them to be a great all round tyre both in dry and wet. They have worn well I have managed to get 16,000miles plus out of the fronts being on a heavy vehicle with loads aswell . Also because the van is lowered it does wear a tyre quicker are there isn't enough adjustment to track it. The rears still have around 5mm left. I would have thought that you could get 20,000plus on a road car which is half the weight of a transit.