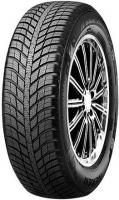 Nexen N Blue 4 Season Reviews (newest first) - Page 1
Bought these Nexen N blue 4 seasons for my Saab 93. I wanted a All season tyre that was good value for money. I paid around £62 a tyre compared to £100 Plus for the premium tyres available. I drive around 20000 miles a year on mostly motorways but need a tyre that is capable of getting me home no matter the weather,I have previously had Michelin cross climates which were great tyres however the only part the cross climates were only slightly better at was dry handling, apart from that thereís nothing between them in my opinion. They have never let me down during heavy rain and seem very stable even in flooded motorways. Havenít had the chance to use them in snow so cannot comment on snow performance, however Iím sure they will do the job. Currently driven 12000 miles and they have hardly worn at all. Fuel economy seems fine as-well as noise levels. In my opinion these are the best value All season tyre on the market and I will definitely buy them again. Bought these on the recommendation on a video from Tyre reviews so thanks mate.
Volkswagen
(215/55 R16 V) on
a combination of roads
for 3,000
average
miles
Update after 2000km an one winter... XL version is a bit noisier than standard, like a winter Tyre. Grip in snow is like with used winter Tyre. In wet...ok. In dry...ok.
Volkswagen
(215/55 R16 V) on
a combination of roads
for 100
average
miles
Just bought this (XL version) after a long reading of reviews and tests.
It replaced an aged Continental PremiumContact 5.
Tested as new in wet and dry.
So far, I am pleased with them.
I have immediately felt that they are more comfortable, maneuverable and quite tyres.
Did not tried yet in winter but based on profile and tests, it will not dissapoint.
My main conceurne was, grip in wet and dry and maneuvrability.
The only drawback ( but I knew about it) is the fuel efficiency. I do feel they are less efficient( mostly on starting the car, you have to push the pedal more).
Anyhow, giving the price/quality ratio is a great compromise. After 4 yrs even with 0,2 l/100 increased consumption, you are still on plus compared to a premium, more expensive tyre.
I do recommend them.
Wear is not a concern for me. For sure they will last 3 yrs.
I will update the review after winter driving.


I use the tyres on a citreon c4 picasso II. Almost a year now i've driven on almost all conditions. I was impressed on the ice and snow performance. While on daily normal commute i never used snow chains except on heavy snowstorm at the mountains. I was really curious about the summer performance, because at my area gets really hot for a long period. The tyre performed really good even at high speeds while the temperature was above 38 Celsius. I noticed a little problem on aquaplaning,maybe more than i expected. Overall a really honest tyre that has nothing to be jealous from the high end brands. Definitely buy them again.
Given
83%
while driving a
Skoda Yeti 4 x 4
(225/45 R17) on
mostly country roads
for 18,000
average
miles
I've had these fitted to a 4x4 yeti for the last 1 1/2 years and have seen 2 winters with snow with them.

Positive points
1. Quiet
2. Decent road handling in wet and dry, braking is good in both.
3. In snow these are great and in sub 4 degrees they seem to grip even better.
4. Grip on muddy roads/lanes much better than summer tyres
5. Good feedback from tyres

Negative
1. Fuel economy seems down on summer equivalents by 5-10%
2. Wear seems lightly greater than summer tyre - i'll get max 2 years out of these (24k miles) but that isn't too bad for a 4x4
3. Aquaplane - seems lower than summers/goodyear vector 4 seasons - Something to be aware of.

My wifes car has Goodyear Vector 4 seasons fitted. They seem to wear better but are very similar for wet, dry and snow abilities.

Will use these again purely as they are £76 each for my car, whereas Bridgestones A005's, Goodyear vector 4 seasons gen 2 or michelins are £115-135 each.

The difference in abilities between these and the Goodyear vector 4 seasons gen 2 does not warrant the price


Given
89%
while driving a
Ford Fiesta
(195/55 R15 H) on
a combination of roads
for 5
average
miles
Got them in Oct 2017 for the front wheels and so far they performed briliantly in all conditions, providing that the car is driven sensibly.
If I arrive too quickly to a roundabout in wet conditions, the skid is progressive and controllable.
As they are all-season tyres, the grip in icy conditions is surprisingly good.

Recommended them to a work colleague for her old Jazz, she is delighted.
Given
73%
while driving a
Ford Fiesta
(175/65 R14) on
a combination of roads
for 10,000
average
miles
Okay let's do this. I blind bought these tyres because they were cheap and because I liked the thread. And so far so good, I made the best choice for the price.
Summer handling: they're nothing more than sufficient. It's a perfectly safe a comfy tyre, but the shoulder is high and the rubber compound is soft, so in tight corners you can feel the grip limit. But hey, if you're not an F1 driver they perform well!
Winter handling: they're like a high level summer tyre. Good grip in every condition, I'm honestly really impressed.
The snow and ice handling is also very good for an all season tyre!
What about wet conditions? Good. Good handling in corners, good braking and good traction. Average aquaplaning resistance. Buy again? Absolutely!
Good light tires with great grip wet, dry or snow once they had 200miles break-in. Road feedback is limited though, first miles leave you doubting the tire, but this improves once they break-in.
Comfort is improved, compound is on the soft side. Tires are much better than my old Falken ZE-912, although they are so soft I have my doubts as to durability. No doubt regarding winter grip, wet or snow - it is great and so is the tire. Dry is not bad either, but the tire gives you more comfort than feel for the road.
Given
77%
while driving a
Chevrolet Lacetti
(195/55 R15 H) on
a combination of roads
for 2,000
average
miles
These tyres are a replacement for the original Hankook tyres that came with the vehicle (Chevrolet Lacetti purchased from new) which were excellent and have lasted 75K km. This is our second car and family workhorse used by several members of the family daily, we use a 7 seater for family transport and towing. So while we like the car, its run on a budget and I had no intention of buying separate winter and summer tyres. I explained the situation and he suggested all weather Vredsteins at some astronomical price per corner, he left to take a call and the young fitter recommended these at half the price.

Grip in all conditions is more than adequate for this vehicle, the extremely muddy lane where we go to walk the dogs is no longer a gamble with the worn Hankook summer tyres and I am confident that the coming snow will not be either. I have noticed that there has been a substantial reduction in tyre noise. I have had the car from new so that noise was just how it had always been. I will see how they fair over the winter but as it stands I will replace the 7 seater with the same tyres for the price.