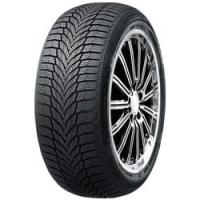 Nexen WinGuard Sport 2 Reviews (newest first) - Page 1
Given
32%
while driving a
Dacia Duster 4x4
(215/65 R16) on
mostly country roads
for 0
average
miles
Tyres went wobbly right after 10000km. Unrepairable with 3 different tyre balancing machines. Simply 2of4 tyres were shot.Do not expect these tyres to be reliable , the price tells you all. Definitelly won't buy or recommend these any more.
Given
61%
while driving a
Tesla Model 3
(230/45 R18 W) on
mostly motorways
for 5,000
average
miles
Bought these tyres because they were cheaper compared to other Ultra High Performance tyres (Michelin PS4S, Pirreli Sotozzero, Vrendstein Wintrac). We don't get much snow and I thought for 3 months these will be fine until I switch to my normal summer tyres. I have a 450HP all wheel drive electric car.

Turns out, the tyres have weak lateral sidewalls and as such handling on my car suffers a lot (and I like a sporty drive). A lot of fine dust rubber from the rear tyres ends up on the car's paint and glues on to it - something I didn't expect would happen and washing this dust from the paint is very difficult to do. Tyres are also a bit noisy. Decent tyres but wouldn't buy again.
Given
68%
while driving a
Ford Fiesta ST180
(225/45 R17) on
mostly motorways
for 0
spirited
miles
Tires are a bit noisy and the handling got a bit vague. Good anti aquaplaning (160kmh+ in heavy rain) and an overall safe feeling
Absolutely happy with tyres. Used as All Season Tyres. Completed 5000miles/8000km
Tyres been used average driving conditions, average weather all year. (From -12 to +31 Celsius, UK conditions)
Front tyres left ~7mm, rear tyres left ~8mm
Few times crossed paddle with no issue
Great tyres for affordable price

Given
92%
while driving a
Toyota Auris
(215/45 R17 V) on
mostly motorways
for 20,000
easy going
miles
These are great tyres, I use them on a Auris Hybrid for about 20k miles and mostly motorways driving plus some country lanes and some A &B roads, they are absolutely brilliant in wet, very good in dry and snow and ice just grippy as on dry surface. Most important factor before my purchase was the noise level , and they exceeded my expectation, these tyres are quieter than many summer tyres, which is something unusual. Comfortable, safe, and reasonably priced i can highly recommend them. Fuel efficiency is also not much affected, they are typical euro winter tyres. 👍
Cant say much. Basically i was looking for not too expensive tyre and that was it. On dry it is great. Wet grip is not that good but on snow and ice it is handling extremely well. I drove 2000 km by now. Wearing is not something i can comment on but i am surprised the tyres are still okay given the fact i was driving on something most people would correct me if i say it is a road :D. I would probably buy this again. Not too many tyres are better than this and for the price it is a bargain.
Given
75%
while driving a
Honda Civic 1.5T
(235/45 R17) on
mostly country roads
for 2,000
spirited
miles
To be fair it was ultimately price that took me to these tyres but they did have some decent reviews. They were fitted the day the snow arrived and the performance over the original fit Michelin primacy 3's was chalk and cheese but to be fair even the worst winter tyres generally work in proper snow. Where these nexen's really do surprise is colder temps and the greasy roads that the british weather excels in. Temps in the UK seem to bounce from around zero one day to ten degrees above the next day so obviously winter tyres tend to complain in higher temps, but again the nexen's manage to do this without the embarrassing howl of understeer that poor winters serve up. Wet braking is similarly good as well. I've used around seven types of winter tyre over the years,generally branded,and where these aren't as good as Michelin Alpin 4's/5's,there not a mile off. Factor in the price difference and once I see how they wear compared to the Alpin's(they were great) I would probably buy these again.
Given
100%
while driving a
Ford Kuga
(235/45 R19 V) on
a combination of roads
for 2,000
easy going
miles
I have just purchased a new Ford Kuga and I'm going on my annual ski holiday in a few weeks time, this is the second set of Winguard Sport I have purchased and for the life of me I don't know why people would want to spend silly money when all they need to do is a little internet revision on these tyres, Last year in the Alps driving through 8" of snow and up hills and they felt brilliant and not for one moment did I thin I was going to get stuck, I don't drive aggressively but these tyres deliver everything that I require, managed to get all four tyres and fitting for under £500, I would buy these again every time and driving in the Alps these tyres give me a sense of confidence.