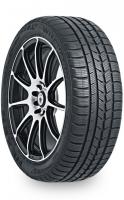 Sorry, we don't currently have any label data for the Nexen Winguard Sport
Sorry, we don't currently have any questions and answers for the Nexen Winguard Sport. Why not submit a question to our tyre experts using the form below!
Ask a question
We will never publish or share your email address
Top Nexen Winguard Sport Review
Given
91%
while driving a
BMW 535xd
(225/55 R17) on
mostly country roads
for 11,000
average
miles
Fited these tires to my friends care a bmw e60 535xd ... no problems till now this is the second winter
Latest Nexen Winguard Sport Reviews
Have you driven on the Nexen Winguard Sport tyre?
Have YOU got experience with the Nexen Winguard Sport? Help millions of other tyre buyers
Given
94%
while driving a
Honda Prelude 2.2vtec
(205/60 R15 H) on
a combination of roads
for 6,000
average
miles
Winter 2017/2018 was my first experience with Nexen and in any case with Korean tires, so despite relatively good reviews there was certain skepticism about performance, especially in view of mixed test results (target was to find tires which are good on snow and ice like Scandinavian type tires, but also good on dry and wet like tires of continental Europe type, and not expensive). Returning home after tires were mounted I was chocked how they were silent - the best ever I have tried. Noise drop was as I would installed a noise insulation. Confort was also on the top, but partly it could be ensured by a little oversizing: 205/60 instead of 205/55.

Winter performance was fully satisfactory. In snow and on ice they were subjectively similar to Bridgestone Blizzak Revo GZ and Michelin X-Ice (I): good grip and braking in snow, but on pure ice they were all relatively weak, especially at temperatures slightly below 0C. All provide better handling than braking, so it's necessary to be careful though as with any tires. On dry and wet pavements Nexen looked far better than both with braking - at emergency braking they didn't slide first meters that was always slightly frightening me. Course-keeping ability on dry pavement may be a little bit worse than that with Michelin (quite similar to Bridgestone), but I could feel it just at speed over 120-130 km/h. Wear after 10K km looks typical. Thus, in overall they are really decent winter tires. Nexen, bravo !

And how to trust all these tire tests ?! Today, in view of my own experience, I may say that there was only one test with Nexen Winguard Sport that looks objective and it was performed in Korea.
Super tyres for this price. Good quality!
Given
59%
while driving a
Fiat Stilo
(225/45 R17) on
a combination of roads
for 10,000
spirited
miles
tramlines and loses traction on degrees 4-13 C. Third winter and its worst than before, little bit of wear.