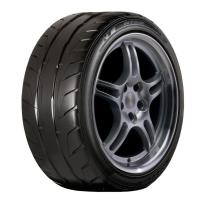 Nitto NT05 Reviews (newest first) - Page 1
Given
76%
while driving a
Holden SS Commodore
(275/35 R19 W) on
a combination of roads
for 1,000
spirited
miles
I'm driven 1,500km's so far at approx. 50% tread and I thoroughly enjoy them. Noise levels are surprisingly low unless you're travelling on a particularly course or smooth road and they're a firm tyre without being too obtrusive which is easy to live with as a daily drive.

On track: very predictable and well balanced. They load up nicely coming out of a corner and give an informative feedback letting you know when you're approaching their limit. Heavy braking and turn in is accurate and precise mostly but it can feel a little 'mushy' if they aren't at a happy PSI or temperature. If using ripple strips they'll sing quite loudly if you use too much of the corner.

On road: The compound does not enjoy cold morning temperatures (obviously) and has much more N.V.H. however you would not buy such a compound without expecting this. Wet weather grip is astonishingly good, tracking down the highway while it's raining cats and dogs at 140km/h feels incredibly stable and secure then I purposely tried doing a donut and I was cheering at how well they held on. Now, dry drip. While it's not enough to keep 612hp to the ground, it tries by skipping and fighting the road surface. Very sticky, comfortably sporty, not as sharp and precise like the track or like the CSC6/EF1A3/PS4S but not to worry.

I would highly recommend the NT05's for something that's drivable from home, to the track, to the drag strip then back home whilst being affordable with nice tread pattern and decent enough wear rate.
I use it for my MY07 Audi A4 2.0TQ avant, feel confidence in corner with certain fast speed. it is normal in raining day and I believed that no one drive a car with this tire in fast speed. I do think I will buy again, nice tyre!
Currently using NT05s for the rear of my Mitsubishi GTO TT, and so far they have been very very good. Did not expect an extreme performance tyres to have adequate grip in the wet / damp roads as well. They are also very progressive, which is confidence inspiring when attacking winding b-roads or spirited driving on the streets / highway.
The sidewall and overall design of the tyres look good as well. I've only had them for 3 months, but I've yet to find anything against the tyres. Very pleased with these NT05s!