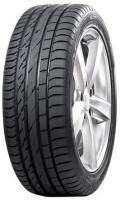 Nokian Line Reviews (newest first) - Page 1
I was dubious about what I read about these tyres but have not been disappointed. Handling in the wet is amazing and the car has never slid or had any unexpected oversteer no matter how I've pushed it .
These tyres are amazing and I will definitely be buying them again, done about 25000 miles and still got plenty of tread left, very quiet on the road. On the Mr2 roadster forums I have mentioned them for being so good but people just talk about the known brands and underestimate Nokian , dry handling is equally as good.
Had a set of Sunnis on before these which felt like you were driving on ice when it rained,
Given
91%
while driving a
Skoda Fabia 1.4TDi
(185/60 R14 H) on
a combination of roads
for 28,125
easy going
miles
Imensely good on both dry and wet. 45000 Km on them and from 8 mm they are just now at 5 mm, so halfway worn. unfortunately they have a whole lot of cracks on the thread so have to change them. The dot is 4214 so not even 5 years old from production date.
Given
80%
while driving a
Vauxhall Corsa
(195/55 R16) on
a combination of roads
for 16,500
spirited
miles
Great tyres, very strong all rounders, lasted 16500 miles - which is credit indeed with my daughters very spirited driving. Would definitely recommend if you can get a good price. No weaknesses, would have lasted longer but they were down to 3mm and wanted to get her new tyres for the coming winter.
Given
76%
while driving a
Ford Focus mk2
(205/55 R16 V) on
a combination of roads
for 5,500
spirited
miles
These tyres came on a car I purchased a couple of years ago from a family member, and I've used them for two summers now.

In dry and wet driving I found the tyres both adequately grippy and progressive at the limit. They arren't performance tyres but on my normal hatchback performed perfectly in most situations.

The main issue I've had with the tyres is premature cracking of the tyre, which started to occur relatively shortly after the tyres were originally installed.
Given
79%
while driving a
Skoda Octavia
(195/65 R15) on
mostly motorways
for 15,500
average
miles
They are fine tyres. Can't say anything bad about grip.
The only disadvantages - rolling resistance seems a bit higher than I'd like (higher fuel consumption) and seems like they wear a bit faster than I'd like to see.
Given
83%
while driving a
Audi A4 2.8 quattro
(205/55 R16 W) on
mostly country roads
for 18,000
spirited
miles
I fitted these to my Quattro 2.8 back in October 2015 and I have since covered about 18,000 on them. My initial impressions were really good. They seemed to make the car feel more nimble and poised on the road and the steering felt sharper and more direct and I could feel the road better.
They were quiet too, far less road noise the the Coopers they replaced. I like the tread pattern as it looked like a lot of thought had gone into it.
In performance terms, no complaints at all and I wanted to leave the long term review until I had experienced driving on snow. I figured that a Finnish brand would be good in inclement weather and they are indeed. These are their summer tyres and they were great in the snow! My Quattro AWD helps a lot here of course, and its worth remembering that all summer tyres will have reduced performance in the cold and snow, not just because of the tyre pattern, but the tyre compound is not designed for temps below about 10 degrees celcius.
Having said all that I did notice the they started to get noisier with age, and then a few months ago I had the car up on a lift for some exhaust work and we noticed that all the tyres showed signs of perishing on and around the tread. Not on the sidewalls which would have been really bad, but even so the tyre shop reckoned that this was unacceptable for a tyre that was only three years old.
There was however plenty of tread left - probably would have seen me through at least six more months, and maybe more. However with winter coming I decided to change them and I chose Avons this time.
To be fair, you can find stories like this about every brand, so I am not damning Nokian really, just saying. YMMV.
Will post a review on the Avons ZV7 next year after they have seen some action. I will say though that already I find them more pliant and comfortable that than the Nokians with less of a crashy ride. But also that the steering feels a bit more vague and woolly. Cant have it all eh?
Given
100%
while driving a
Volkswagen Golf 1.9 Tdi
(195/65 R15 H) on
a combination of roads
for 2,000
easy going
miles
I had this tyres on my Golf after two sets of Continentals. This tyre does the same job but only at the lower price. I dont know about wear I didnt drive them too long but first few month impression is excellent. They are produced in Russia in town near Finland.
Given
59%
while driving a
BMW 735i E32
(225/55 R16 W) on
mostly motorways
for 19,000
spirited
miles
In spring 2015 I purchased a set of Nokian Line 225/55R16 99W XL, based on the excellent reviews I've read here.
As of now (June 2018) I have clocked about 30.000 Km with these tires, and I can say that the Nokian Line is overrated.
It is not a bad tire, but, based on the scores it got here on Tyre Reviews, the reality is way below expectations.

Dry grip and wet grip are decent, but nothing to write home about. Dry braking is not so good. Steering feedback - forget about it. The sidewalls are soft, and the car feels like driving on jelly. But the wear looks good, I still have 5mm left after the mileage mentioned above.

I would only recommend the Nokian Line for the easy going driver, who is looking for a mid-range brand of tires, and for whom wear and price are important criteria.