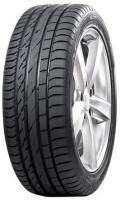 Nokian Line Reviews (newest first) - Page 2
Given
63%
while driving a
Subaru Legacy
(225/45 R17) on
mostly country roads
for 22,000
easy going
miles
I was impressed with the dry and especially wet grip but after using them for one season and storing them in the same way as all of my other tyres they were cracked and the performance was much worse the second season.

I eventually had to stop using them as they were causing strange handling and vibrations when driving.

In summary, really good the first year. Terrible the second.
After purchasing my first car I read an aweful lot of reviews/tests about tyres, as I view them as a massive safety feature. I settled on these as the reviews are extremely high across the board on a mixture of vehicles, and they're priced well.

I can highly recommend the Nokian Line tyre. I've had them on my Vauxhall Astra for the past 3 years and wouldn't put anything else on there now. I opted for the W XL tyres as they were priced cheaper than the lesser rated tyres at the time by a couple of quid. After using standard tyres previously, the rolling in corners was so noticable in those compared to these. Whilst it's a slightly firmer ride with the XL's, I'm more than happy with the almost non-existant rolling in corners.

They handle amazingly, especially in the wet where they flying through surface water like a hot knife through butter at all speeds (80mph+ on motorways with heavy surface water). Stopping in the wet/dry/ice is excellent too, gripping to the road insanely well. Cornering is just as impressive, I've pushed them hard in the dry, wet and icey conditions and they've done me proud.

I travel ~10,000 miles per year, through all weather conditions and a mixture of motorway, country lane and urban driving. The first set I bought (09/01/2016) went on the back for 9 months, then I switched them to the front on 05/11/2016 and they'd only lost 1mm of tread. I ended up getting 20,659 miles (10,541 miles on the rear / 10,118 miles on the front) out of them in total. They had 2mm of tread left on them before I put another pair of Nokian Line's on 11/11/2017.

17/02/2018 I changed the dipped bulbs and checked the tread on the front. They're still showing 5mm and they've already clocked up ~12,000 miles (10,028 miles on the rear and 1,972 miles on the front ), so I expect to get another ~8,000 miles out of them which I'll be happy with. The new rears have only lost 1mm of tread over 3 months so I'm more than happy they'll last a long time.

Handling doesn't seem to deminish like on other tyres as the tread drops, I had just as much confidence in them at 2mm that I do at 8mm, and I'll be buying another set to put on the front and switch over again when the fronts are down to 2mm.
Given
81%
while driving a
Vauxhall Corsa
(205/55 R16) on
a combination of roads
for 11,000
spirited
miles
Bought these as thought they were a good, safe all rounder - and I have been proved right. Grip in wet and dry is fine, feedback is good, perform very well in cold of winter and have lasted pretty well with my daughters spirited 11K miles of driving. Road noise is about same as original Goodyears. Will definitely consider these again - Nokian are definitely a name to consider along with the Premium brands.
Given
36%
while driving a
BMW
(205/55 R16 W) on
a combination of roads
for 1,200
spirited
miles
Normally I am stubborn and trust not all reviews has been written.
This time I am a little bit lazy and need tires asap.

Too bad; my stubborn is right.
When they were new wet grip was okay and cheeks not to soft ( I have XL version).
After about 1200 miles very unstable (soft cheeks), a lot oversteer and understeer in wet condition ( in simple words no grips).

So I have replaced them for Michelin Pilot sport 4, what a difference.
Soo for me waste of time and money.


Given
53%
while driving a
Peugeot 508 SALOON
(215/60 R16 V) on
mostly motorways
for 30,000
average
miles
Performed very well while new. I drove them for 6 months some 30.000 km. After winter switch, I stored them at my garage and fitted again in spring, seemed like they lost all characteristics.
The wear was intensive, the car start pulling on the right side so I went for wheel alignment. The results were normal, all the troubles caused by the tyres. After total 40.000 km I changed these tyres and the car came back to normal.
This is 2nd set of Nokian that disappointed me.
I used those tyres after a set of Goodyear, Tyres grip on dry and wet roads is perfect and more comfortable than last set. Very early to look at the wear but lower noise and excellent sensitivity to steering
Given
93%
while driving a
Skoda Rapid TDI
(225/45 R17) on
mostly motorways
for 25,000
spirited
miles
Bit sceptical when buying these and removed my old Primacy 3s . Very impressed with the tyres. Extremely quiet, stick well when warm and you can really throw the car around in the wet

Bought these after reading many reviews and wanting a midrange value for money tyre,but i`m afraid to say very disappointed as they have only covered 8500 miles and are down to 3mm. Fitted to front even wear across whole tyre so no tracking or inflation issues and driven sensibly at all times also road noise increased as tread went down will not buy again.
Given
70%
while driving a
Mazda MX6
(205/50 R17) on
a combination of roads
for 10,000
spirited
miles
Tyre is really hard to heat. Slipping in cornering when cold. In comparision to barum bravuris 3HM i would say it's 7 to 10.
When get warm quite nice grip, but the sidewalls are bit too soft.
Nice braking in rainy conditions, but cornering still average. I expected something more from the tires costs much more than barum ones.