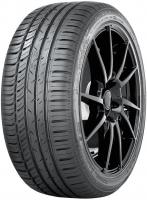 Nokian zLine AS Reviews (newest first) - Page 1
Very good tire for the price. Good grip in summer and not bad in the snow despite that it is not its first vocation.
A little bit noisy at low speed but good at highway speed.

Given
94%
while driving a
Volkswagen Golf V5
(205/55 R16 W) on
mostly town
for 500
average
miles
Very good !
Wet Grip and handling is twice better than my old Hankook tire.
Little bit "grinding" noise at very low speed but ok on highway speed
Also tried on snow and grip is very good if you have to use it in snow sometimes.