Pirelli Scorpion Trail II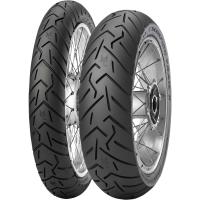 The Pirelli Scorpion Trail II is a Premium Touring Summer tyre designed to be fitted to Motorcycle
Show All
Tyre review data from 7 tyre reviews averaging 82% over 208 miles driven.
Sorry, we don't currently have any magazine tyre tests for the Pirelli Scorpion Trail II
Sorry, we don't currently have any label data for the Pirelli Scorpion Trail II
Questions and Answers for the Pirelli Scorpion Trail II
2019-03-22 - Hallo , what is the difference between Varianr D and Variant K of Scorpion Trail II
Unfortunately I'm unable to answer that.
---
Ask a question
We will never publish or share your email address
Top Pirelli Scorpion Trail II Review
Great tyre for road - touring and a bit of off road rides, quick warm up.
Latest Pirelli Scorpion Trail II Reviews
Oem to my multistrada 1200s.
It was good in the start of there life ...I had it until 15.000 KM and now it is for replacement.I am not sure that is the tyre i want.
Next step is the Michelin pilot 5 cause i want a more sportier tyre

Not happy with these just clocked up 1200 miles breaking in a new ktm 1290s and must say no hard throttle and all ready showing signs of mild flating off, also in the wet tyres are quite twichy, overall not very impressed and wont be fitting again.
Given
90%
while driving a
BMW 218d Active Tourer
(180/55 R17 V) on
a combination of roads
for 8
spirited
miles
Here in the States, I use these tyres on my 2014 BMW R1200RT-LC. I know that the Sport touring crowd won't read this but that's OK. I ride typically the back roads of the United State Highways such as Route 66, and on many occasions have run into situations of snow, muddy pot holes, pea gravel, course gravel, dirt, and clay, and friends I don't turn around! A set of II's went on after the Original Pirelli scorpion trails wore out, and they were a great improvement over the originals. They are sticky, and give great control on dry and wet roads, and not so much off road. But I do have the confidence to continue down any road with any problems
extremely grippy in the dry for a Dual Sport tyre. Potent on light enduro trails, however, when on wet roads they can be quite a handfull. I got a tank slapper on my KTM 1290 Adv just for going straight.
The middle threads don't let the water go out, and if it rains heavelly, you'll "fill" them up and that will cause an aqvaplanation (or whatever you call it in english).
also a bit loud.