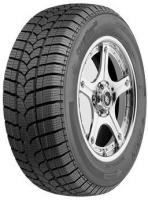 Riken Snowtime B2 Reviews (newest first) - Page 1
Given
87%
while driving a
BMW 318D
(205/55 R16 H) on
mostly motorways
for 35,000
easy going
miles
Always dubious with unknown brands, but having run various winter tyres over the years I thought I would try Riken.

Great snow performance and great in standing water, wear has been surprisingly good, i will definitely purchase again. In fact as I swap my tyres (summer/winter) I have purchased some Riken summer tyres to run along side the Snowtimes.
Given
66%
while driving a
CitroŽn C3
(195/55 R16) on
mostly town
for 10,000
average
miles
Good tyre for city and occasional out of town/motorway driving. The grip in both dry and wet is not the best but is good enough for a normal driving style, I didn't expect nothing more from a budget oriented tyre. The difference in stopping distance between this and a summer tyre is noticeable but not excessive. Noise level is very good, much lower than most winter tyres and definitely quieter than the Continental I have on my other car. In very cold temperature and little snow and ice the performance is great I was able to climb up and get down a mountain road during a snowfall and i didn't felt frightened. Used this tyre for 2 winters and over 10000miles and I'll make it as many before changing them. Bought the same tyre for my father's car (215/50 R17) and he was of the same opinion.
Given
77%
while driving a
Ford Mondeo 2008 1.6
(205/55 R16 V) on
a combination of roads
for 15,000
average
miles
This is an update to my earlier review where I stated it was a relief to get the summer tires on. New rear shocks at 30K resolved the odd handling! The Riken's have been back on the car three times, once until June. I think the wet grip got better with a little wear and they are lasting very well. This year they were a joy to refit after removing noisy Nankang NSII tires, so much quieter and a relief to find it was not an issue with the car. they still have so much tread I might not bother changing for the summer.
As expected, much better grip in the snow than the Pirelli summers they replaced.
Pleasantly surprised that they are also quieter, and fuel economy has improved 5%. This is compared to Pirelli 16".
I also ran Pirelli 17" summer previously and found the move to 16" summer improved ride quality and reduced noise as well, so with the move to 16" and winter the effects were cumulative
Given
61%
while driving a
Ford Mondeo 2008 1.6
(225/45 R17) on
a combination of roads
for 3,000
average
miles
Fitted December 2011. Only one day of snow but noticeably better control than my recollection of the previous year in the snow. In non-snow conditions the handling of car is different with lower limits than the summer tyres (Mitch Pilot Prem) in both dry and wet. It has been interesting to observe the car stability control helping to save me from big moments. I just have to remember to drive slower and not push on roundabouts or bends particularly in the wet as they let go suddenly. Was a relief to get the summer tyres back on after the winter. Minimal wear in 3k miles. Note Michelin appear to own Riken.