Roadstone CP661 Classe Premiere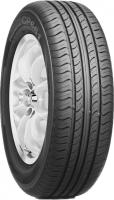 Roadstone CP661 Classe Premiere Reviews (newest first) - Page 1
Given
44%
while driving a
Mazda 6
(215/50 R17) on
mostly motorways
for 30
spirited
miles
The tires were decent initial 10,000 miles after which the wet grip deteriorated drastically, the tire tread block corners started to chip. Even smooth wear not present on the tread.
structure of tire is decent after 3 years of usage.
Given
49%
while driving a
Toyota Corolla
(185/70 R14 T) on
mostly motorways
for 13,000
spirited
miles
Bought these tyres at Goodhope Tyres in Cape Town after they recommended but i regret buying them. They are the hardest wheels and very noisy. They are ideal for construction bakkies where comfort is not an issue. The only advantage is that you cant just wear out this tyre, its just impossible so thats a plus. But would not recommend anyone buying for a sedan
Given
49%
while driving a
Daewoo Cielo
(185/70 R13 T) on
mostly country roads
for 15,000
average
miles
hanko0k optimo 04 :8\10 made in korea
yazd tire-venus :6.5\10 made in iran ! (licenced by Vredestein)
Roadstone CP661 :4.5\10 made in korea
Given
81%
while driving a
Renault Clio 1.4 16v
(185/60 R15 H) on
a combination of roads
for 10,000
average
miles
I often spend too much time researching my new purchases and analysing their worth, but I found these by accident!
bought a second hand clio and these were on the front, that was last summer and they weren't new. Drove it over the warm, then wet and somewhat cold winter we have just had and have no complaints! I drive so dual carriageway some town/CITY and some often bad country roads. I have found them very good grip wise, not loud enough to be anything to write about, and have yet to get them to wheelspin when I tried quite hard! Car had a fault with tc light so we were testing to see if it was on or off but after a short drive, no wheelspin could be done and tc working well. On my car they have been amazing and good value, tried many other well known brands and have bought my second set of these as they did so well! They are also called nexen with the same CP661 I have heard. Just named in Europe differently... to uk I think..
Kia Motors
(205/55 R16 V) on
a combination of roads
for 2,000
average
miles
The Roadstone CP661 Classe Premiere appears to be a direct copy of Nexen CP661 Classe Premiere tyres, with the same name and identical tread pattern (just the manufacturer's name has been altered). The Nexen tyre gets quite positive reviews (including my own good experience) http://www.tyrereviews.co.uk/Tyre/Nexen/CP661.htm

The Roadstone version is reportedly not so good, so check carefully before buying.
I got them on the car, so I can't tell how much they had on it..on dry fairly OK for a budget tyre, but in wet conditions they would slide my rear end with ease. I guess these budget type tyres are only as good as maybe 2 seasons, then they turn into plastic with bad grip whatsoever.
Given
73%
while driving a
Hyundai Accent
(195/50 R15) on
mostly country roads
for 30
average
miles
For the price can't expect more, but not bad. My only concern is under wet conditions , have to be triple careful and no speeding at all. For daily driving and still less than 1/3 of wear use very durable. If I would by this tire again yes, is I recomend the tire yes, but NO over speed or cornerig under wet conditions.
Given
21%
while driving a
Skoda Fabia 1.9TDi
(225/45 R17) on
mostly country roads
for 5,000
average
miles
I had these on the front axle of my car when I bought it. I'd consider them dangerous. On the front axle, the car wouldn't turn in at all in the wet. I swapped them to the rear axle and got oversteer (from a front wheel drive car!). After 5,000 miles, with no sign of them wearing out, and with continued issues with tyre pressue dropping, I had them replaced with Uniroyal Rain Expert tyres, to match the other two fitted to the car and things are much better.
Given
50%
while driving a
Toyota Corolla
(205/60 R15 H) on
a combination of roads
for 0
average
miles
These tires fall into the category of 'budget' by all means; however, they're one of the best budget brands I have used. They are not very good on wet roads and has the tendency to warp out of shape or bulge. On the bright side, for a typical daily driver who doesn't intend to push to ridiculous speeds, it is quite workable. I am currently using Bridgestone Potenza tires at the moment which feels light years better, but if I have to purchase another set of budget tires, this would be the choice.