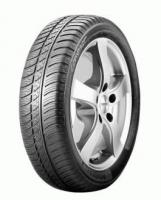 Sportiva Compact Reviews (newest first) - Page 1
Given
64%
while driving a
Honda HRV
(215/60 R16 H) on
mostly town
for 6,000
average
miles
The tyre is noisy
Given
43%
while driving a
Subaru 04 WRX
(195/65 R15 T) on
mostly country roads
for 16,000
easy going
miles
These came fitted to an Impreza 1.5R they are reasonably quiet and dry grip is acceptable, Gauging wet grip is hard as the car is AWD, they are down to the wear indicators already at less than 20k km. I wouldn't recommend these if you want more life from a tyre.
As a positive they are quiet but with soft sidewalls they are a bit floaty.

Given
93%
while driving a
Renault Megane
(195/65 R15 H) on
mostly country roads
for 5,000
average
miles
After Sportiva SuperZ+ i buy these tyre for 40€ each. Very suprised how they go and i fell like drive other car. For someone who drive normaly and about 8-10 000km for summer season... this tyre is excellent
The review is about Sportiva SUPER Z+ for all those of you who wonder to buy them or not! Do it!.Awesome tyre with a good price bought them for 50 euro each!The grip is far than good on dry and wet asphalt.Quiet tyre.The only minus is the bord is abit weak and soft and if you drive on a road with holes you have to be more than carefull because they might get damaged.Overall i recomend them if you drive 15/20k km a year and change them every 3/4 years.