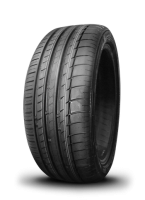 The Triangle Sportex TSH11 is a High Performance Summer tyre designed to be fitted to Passenger Car
Show All
Tyre review data from 10 tyre reviews averaging 74% over 38,640 miles driven.
Latest Group Test Results
2018 Test World Summer Tyre Test - 15th of 16 tyres
Positive - Acceptable dry handling.
Negative - Poor dry and wet braking, poor balance during emergency maneuvers.
View All Tests >>
Sorry, we don't currently have any label data for the Triangle Sportex TSH11
Sorry, we don't currently have any questions and answers for the Triangle Sportex TSH11. Why not submit a question to our tyre experts using the form below!
Ask a question
We will never publish or share your email address
Top Triangle Sportex TSH11 Review
I have these on my Jaguar XF and despite my fears of these being ditch finders I have been pleasantly surprised, an excellent all round tyre that is available for next to nothing because of brand snobbery.
I drive my car pretty hard and have 255 bhp and a shed load of torque going through the rear wheels and they have proven to be perfectly acceptable in all conditions, yes I can make the rear end step out in the wet, but I could also do that with the previous Dunlops which were 5 times more expensive.
Give these a go, you will be surprised, I was. Unbelievable value for money.
Latest Triangle Sportex TSH11 Reviews
Ford
(235/35 R19 W) on
mostly town
for 1,000
average
miles
just replaced some michelin pilot sports 4 which in less than 3 years the tread was peeling off in blocks
had these triangles on the rear of the car when i bought it , and thought they were a good looking tyre , bought 2 more for the front , great grip in dry and wet, i feel they are quieter than the michelins , the car sits lovely and smoothly on the road , highly recommended , bought 2 tyres for the price of 2/3rds of one of a premium brand
you really can't go wrong , lovely tread , great value , quiet , smooth !
Given
84%
while driving a
Volkswagen Golf GTI
(215/35 R19 W) on
a combination of roads
for 40 miles
New rims came with a set of triangles that were trashed, replaced them with the sportex, value for money is excellent. Handle very well, wheel spin in the wet but even my pirellis did that. All round they are the best value I can find
Given
37%
while driving a
Honda Civic Type R
(225/40 R18 W) on
a combination of roads
for 4,000
spirited
miles
Great when fresh and new -however terrible in the wet bordering "ditchfinder" status
Not good when you have a family - pay a little more and have peace of mind
Always used Yokohama, Dunlop etc.
Got a New car and wanted Just some cheap tires.

Not bad for a cheap tire. Feels allright in all sorts of weather. Not a tyre you push to the edge but ok for a family racer.


Fitted 4 of these new tyres. They were average in wet and dry when first bought. I gave them an aggressive testing when first fitted to learn their performance and limits/safety and the results were average in all areas. I thought I had made a smart choice between safety and cost. As they wore they became very slippery in the wet, the tyres felt a lot harder to touch and both dry and wet handling were not as good. road noise was noticeable at the end of life but not loud. I replaced the front tyres with Cooper Zeon Cs8's which are A rated in wet and the car was very dangerous oversteering in wet AND dry. The premium tyres really showed the marked difference in cheap chineese rubber and better brands. Changed the last 2 tyres out early due to safety reasons. Choose Goodyear Efficent Grip Performance.Would never buy again