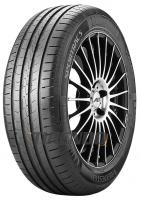 2019 Tyre Tests

2018 Tyre Tests

2017 Tyre Tests

2016 Tyre Tests

2015 Tyre Tests

2014 Tyre Tests

2013 Tyre Tests

2012 Tyre Tests
| Size | Fuel | Wet | Noise | Weight |
| --- | --- | --- | --- | --- |
| 185/70 R14 88H | E | A | 70 | 7.13kgs |
| 185/70 R14 88H | | | | 7.20kgs |
| 205/50 R15 86V | C | A | 70 | 7.29kgs |
| 205/55 R15 88V | C | A | 70 | 7.43kgs |
| 205/60 R15 91V | C | A | 70 | 7.97kgs |
| 185/65 R15 92V XL | B | A | 71 | 7.93kgs |
| 195/65 R15 91V | C | A | 70 | 7.82kgs |
| 215/65 R15 96H | C | A | 71 | 8.60kgs |
| 195/45 R16 84V XL | E | A | 71 | 7.13kgs |
| 195/55 R16 91V XL | C | B | 70 | 7.50kgs |
| 225/70 R16 103H | C | A | 70 | 11.80kgs |
Sorry, we don't currently have any questions and answers for the Vredestein Sportrac 5. Why not submit a question to our tyre experts using the form below!
Ask a question
We will never publish or share your email address
Top Vredestein Sportrac 5 Review
Given
81%
while driving a
Ford Focus
(205/55 R16 W) on
mostly country roads
for 12,000
spirited
miles
Got these to replace a set of worn out Michelin Primary HP tyres on the Ford Focus.
Firstly you need to understand that a couple of years previously i'd had the standard suspension upgraded by swapping it out for Bilstien B12 Gas shocks with matching Eibach springs, due to rubbish A & B roads causing suspension damage, After which I had the whole set up laser aligned by the tuning company that fitted the suspension.

Anyways , following this , the better handling from this swap led to a downside.The tyre noise transmitting through the body from the Michelin's on all road surfaces increased considerably.When it came time to change, i got a set of 4 x Sportrac 5's all round.Firstly the road noise reduced noticeably.It was still there, but not as bad.
Handling: - At first I though I'd made a huge mistake. The handling seemed sloppy and the car seemed wayward.However I persevered and as the tyres scrubbed in over the next few thousand miles, the grip level has kept on increasing.

12000 mile later and they are now gripping really well in both wet and dry conditions, almost like a premium sports tyre. The wear rate also seems very good.

Knowing what i know now.I will definitely put them on again , when it becomes time to replace them, and put up with scrubbing the next set in as well.
Latest Vredestein Sportrac 5 Reviews
Have you driven on the Vredestein Sportrac 5 tyre?
Have YOU got experience with the Vredestein Sportrac 5? Help millions of other tyre buyers
Given
90%
while driving a
Nissan SUNNY
(225/45 R17) on
a combination of roads
for 50,000
spirited
miles
Best tyres i have used... Very good grip both dry aannd wet roads... Smooth running with almost no noise.. Excellent response in turns and braking..
Skoda
(185/60 R15 H) on
mostly country roads
for 50,000
easy going
miles
Before these tires I wore barum bravurious, hankook xl, bringeston turanza. None of this was that good. The sportrac 5 effortlessly got me 50000mm safely. Very good in dry and wet. In the light snow he walks. It is economical and has a hard sole. I would go through it again. I did the kilometers in two years.
Given
80%
while driving a
SEAT Arosa
(195/45 R15 V) on
a combination of roads
for 5,000
spirited
miles
Very reliable tyre in all sections with a very good performance and rim protection.Excellent feedback,not very soft/medium rubber for comfort.
Given
70%
while driving a
Audi 100 c4 2.0 E
(185/70 R14 H) on
mostly motorways
for 1,300
easy going
miles
The drive quality is perfect but the wear is a real trouble. 2mm down in 2000 km in a very careful driving style mostly on highway at no more than 100 km/h. 185/70 r14 tires, made in India.
Given
60%
while driving a
Ford Fiesta mk7
(195/45 R15 V) on
a combination of roads
for 0
spirited
miles
Really do not understand these reviews. 100% true what is stated here: https://www.autoexpress.co.uk/accessories-tyres/88489/vredestein-sportrac-5-tyre-review Dry grip almost non-existent for 125 BHP Fiesta. You may not be able to move a car from standstill on a Dry asphalt using 1st gear up to almost 7000rpm. Moose manoeuvre very vague for 45 profile and 2.2 all round pressures. This is not (even little) sport tire. An initial impression (350 km), but I will probably change them soon.