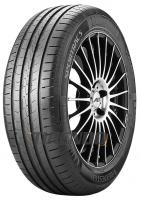 Vredestein Sportrac 5 Reviews (newest first) - Page 2
Given
77%
while driving a
Hyundai i40 tourer
(205/60 R16) on
mostly town
for 20,000
spirited
miles
Tyres used on a taxi / minicab
Good wear, although the edges have worn first with heavy braking on roundabouts. But 20k miles on the front and 45k on the rear, in this use is very good.
Wet grip is decent and progressive loss of traction long before they give up. But you can get caught out on quick direction changes.
Dry grip is very good, in high temps they work very well. Cold temps not as well.
A decent amount of scrubbing in is required, probably 1000 miles or so.
Noise levels I have not noticed any difference from the hankooks they replaced.
Just about to order a set of 4 replacements
Given
90%
while driving a
SEAT Leon
(205/55 R16 H) on
mostly town
for 45,000 miles
I am driving today for second time continuously the vred sportrac 5. I was very excited with my previous 4 tyres set from 2015. They have very stiff side walls cimparing with equal tyre brands and I change them because they are used for over 45000 kms. Their wear looks great and still now do not have at all cracks or holes or any disadvantage. Especially in greek roads which are simply mess they stand outstanding. I think they are much more durable than hankook 425 and yokohama c drive that I had previously. The worst and I wouldnt buy again is the han 425. Not suitable for greek roads. Sportrac 5 with close eyes. Im driving seat leon mk1 1.6 125hp
Given
94%
while driving a
Toyota Auris
(205/55 R16) on for 52,900 miles
In Toyota Auris 85000 Km. I would like to buy again
Given
51%
while driving a
Kia Motors ceed
(205/55 R16 V) on
a combination of roads
for 25,000
spirited
miles
Noisy, poor aquaplaning, poor wet grip, good dry grip and low wear. The tires were manufactured in 2012.
Given
100%
while driving a
Audi 100 c4 2.0 E
(195/65 R15 H) on
mostly motorways
for 23,000
spirited
miles
Great tyres for their price, not surprised that the distributor recommended them over more expensive Dunlops and Bridgestone that he had in the warehouse (Keep in mind we are talking about 15'')...I like to drive fast up to 100 - 110 mph (when possible) and do like turning quite agressivelly. These tyres have never let me down, in fact the handling is still great even after 22k miles, still about 5mm of thread left thus most likelly I am going to change due to age (DOT 2016) rather than due to mileage. Aquaplaning resistance is excellent, there were some instances of really A LOT of water on the road (e.g. Serbian highway; south Italian roads etc.) yet there was no sense of losing control dispite high speed.
Had few scratches on the sidewall, totally superficial damage, say can say that sidewall inegrity is good.
I think I will try the pirelli's P1 next time, as I am curious to see how much better the handling may be from a Premium tyre when fitted new.
Only negative thing is a strange noise that one tyre makes, noticeable at low speed with windows open.
Nevertheless, the lower price,slow wearing and good handling perhaps renders the Vredesteins the best option in the 15'' segment. If of any importance, these 2 pairs of tyres were made in Netherlands.
Given
63%
while driving a
CitroŽn C Crosser
(225/55 R18) on
mostly motorways
for 20
spirited
miles
Driving 2008 ,SUV , Citroen C-Crosser 2.2 HDi (built with engine from MITSUBISHI OUTLANDER) from 120.000 till 160.000km, spirited driving millage,mostly highways, driving around 120-140km/h (sometimes till 160km/h but sometimes 100km/h), all 4 were ST5. Very stable, comfortable , you have a filling of good control, especially in curves in dry even better in wet , very quiet, wearing HORRIBLE - all good characteristics are only till 25.000km, after that it is a dangerous tire only good in cities and /or low speeds under 100km/h on motorways. WEARING was very evident especially on the edges ,but I guess the factor is the fast driving. Looking now amongst Nokian Line SUV (bad reviews on wear or becoming oval), Toyo Proxis CF2 SUV (bad reviews for not being stable over 120km/h), Goodyear EfficientGrip SUV (nice in general) , Falken Avenzis 510 SUV (bad reviews for wearing) and Continental SC 6 (last is my favorite but pricey :) )
i fitted the tyres first time 5 years ago on my citroen xsara 1.6 i am currently on the 3rd set on my xsara and i fitted them on my clio iv too i am most certainly very pleased with it. Its good grip and long mileage fit the bill nicelly.I previously had michelin pilot on and they dryed up very fast they were slipery and wear very fast and they were a bit rougher on the bumbs.
Given
89%
while driving a
Toyota Corolla AE101
(195/50 R15 H) on
a combination of roads
for 5,000
average
miles
The tyres are perfect for their low price and if you imagine the roads we have in Greece the tyres doing its job perfect...
Recommended also for sport driving!!!
Very good dry grip, wet grip was also good, the handling was not so excelent if I compare with some premium tyres like Bridgestone or Continental. Generallythey are good tyres, I had them for 3 summer seasons, but the last one they were just not all right anymore.