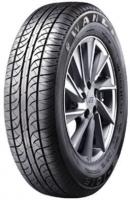 Wanli S1015 Reviews (newest first) - Page 1
Given
37%
while driving a
Hyundai Getz
(175/65 R14) on
a combination of roads
for 50,000
easy going
miles
Have had a pair of these tires on a Getz 1.5 CRDI, first at back (ca. 40000 miles), then at front (ca. 10000 miles). While wear was ok (a bit better than average), and the dry grip was acceptable, as another user said, they were shocking in the wet (tyres marked as M+S!, must be a joke!). A complete DANGER!
Have driven 9 or 10 cars for long distances during the last 18 years, with many kinds and brands of tyres, and these ones are the worst without any doubt. Driving in the wet, even with an easy going style, they lost grip easily on almost any sharp curve. Never had an unintentional spin till I met these tyres.
They where also quite noisy. As for fuel consumption, it was ok. I've made some of my best consumption records while these tyres where mounted, but I wouldn't say that they helped a lot. Instead I would say the didn't hurt the fuel consumption.
Given
99%
while driving a
BMW E38 7 Series
(205/70 R14) on
a combination of roads
for 25,000
spirited
miles
I don't know where Wanli tires should be classified, because they are budget friendly tires, but they also perform really well. This tread design has very good grip on both dry and wet roads and makes a great comfortable ride. I can have both affordability and quality in Wanli tires. I will definitely buy again.
Given
10%
while driving a
Nissan Micra
(225/45 R17) on
mostly town
for 15,003
easy going
miles
Had 4 wanli s1015 tyres fitted 20/04/2014 . Paid £20 pounds for Naional Tyre guarantee.
Had a flat tyre on 14/09/2017 my breakdown cover changed the wheel and said there was cracking in the tread.
Drove to garage where they were fitted asked them to check the other tyres and was told that all the other tyres had cracks. This after only 2 years and four months of driving. Mileage over this period 15003. Had to replace all 4 tyres.
The tyres are being returned to the maker but garage not hopeful of any recompense.
What was the guarantee charge for. Nightmare all round.

Given
97%
while driving a
Toyota Vios
(175/65 R14) on
mostly town
for 10,000
spirited
miles
Definitely a MUST-BUY tire brand!!! WANLI tires have been getting bad reviews online but I don't get why??? I have been using WANLI tires for quite some time now and all I can say is that I am so satisfied with them. They give me good value for my money!! I'm getting WANLI tires for all my cars now.
dealer fitted pair of s1200 on rear of smart fortwo at 27k miles replacing orinignal conti's
bearing in mind the rear engine rear wheel drive and quirky handling of the motor (having taken in for test drive with original fitment) the Wanli' let me down dangerously on roundabout, entrance to supermarket in fact anywhere the road surface was not dry and perfect. Felt my new purchase and my life was at risk and continue to take the most care in all conditions. what i can save in underwear i am going to spend on proper tyres
Given
33%
while driving a
Honda Civic Type R
(205/45 R17 W) on
a combination of roads
for 5
spirited
miles
Shocking in the wet. Simply pulling off quick from a junction in the wet is impossible. You need a big space cos you have to pull off gently otherwise you sit there wheel spinning and your chance has gone. The tread has lasted but one keeps going down after about 3 days it's completely flat. Not sure if it a puncture or faulty valve though. You can only just tell if the grip has been lost on a wet roundabout, it's very difficult to notice. Dry grip is ok, could be better. A lot of road noise, have to almost shout when talking when on a 70mph limit road. I wouldn't buy this make again.
Very hard rubber made these tyres very noisy at speed, and gave them terrible grip in both the wet and the dry.

In the end, I lost the back end of the car coming around a corner on an A-road in the wet. This was whilst following a Ford Fiesta (on Michelin tyres) that took the corner with no problems. Car rolled over 1 and a half times. Thankfully it was an old Merc so I crawled out with no injuries.

I have learned my lesson - I will never buy cheap tyres again. DO NOT BUY THESE - your life isn't worth it.