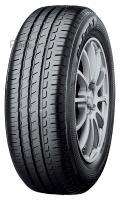 Yokohama BluEarth AE01 Reviews (newest first) - Page 1
Given
54%
while driving a
Ford Fiesta
(155/80 R13) on
mostly motorways
for 8,000
easy going
miles
A wear fest for my Fiesta. Lasted a year and only 8000 miles.

Economy, handling etc was good, but the wear!
This to fit to our 2nd car to replace the OEM Falken tyres. My current first impression are:
- comparing to the falken, the tyres felt softer, but noisier
- the grip and handling in the wet and dry condition is just as good if not better than the Falken - subjectively, i like to think it's better. They are quite reassuring.
- given the current street price for a japanese made tyres, i think they are excellent value for money.
Given
71%
while driving a
Nissan Micra
(165/70 R14 T) on
mostly town
for 12
easy going
miles
I replaced all four tyres with Yokohama BlueEarth AE01. Excellent grip wet and dry but very disappointing wear. Original tyres supplied by Nissan lasted over 20,000 miles but these are down to their legal wear limits at just over 12,000. Will try another brand next time.
Mazda
(195/50 R15) on
mostly motorways
for 50
average
miles
I fitted a set of Bluearth AE01 A tyres to a Mazda Demio and now 2 years later I have just topped the 80,000km (50,000 miles) mark on the tyres and its just reached the the wear indicators. I could say these are the best tyres I have come across so far. I fill up with nitrogen to the manufacturers recommended pressure so that it maintanes the uniform pressure for longer than ordinary air and with tyre rotations at every 10,000kms with alignments checks I have been able to get this milage with which I am very satisfied. No complaints at all. Handles very well in wet and dry weather particularly at high motorway speeds, remarkably reduced road noise compared to the Dunlops I had on eearlier. Very smooth ride. Good work Yokohama, keep them rolling!!!!
These tires have a great ride quality, cornering is great, they grip very well. Tried them moderately on race tracks too, the handling is great. Noise is probably above average but that's to be expected I think. Fuel economy was unbelieable, I was usually close to (if not below!) the factory figures. Absolutely recommend.
Given
79%
while driving a
Honda Jazz
(175/65 R14) on
a combination of roads
for 9,000
easy going
miles
I got these for my mother's car which had really nasty Accelera and Event branded tyres on it. The Jazz isn't the ideal platform for a tyre test but here goes...

Noise rating was a factor when choosing and these Yokohamas have not dissapointed. Ride has improved also. However, the biggest improvement these tyres provide is wet braking. Worn budget tyres were truly terrible for this but the Blu-Earths mean I can once again relax knowing that stopping no longer needs planning permission.

Handling? It's ok. Feedback has improved and the Jazz can now be set up to corner at it's limits when rarely desired. At the limit it is now manageable, balanced and recoverable but still far from rewarding.

Cold weather performance does not reduce too much either so winter tyres are not needed. Unfortunately I cannot rate wear but after 30 months and 9000 miles, all tyres still have a minimum 6mm on them.

All in all a good tyre which was bought for noise and wet braking rating. In that, they do not disappoint but I'd prefer a little better wet roadholding but they are predictable and easily manageable.
I considered the Conti Premium Contact 5 but my previous experiences with Contis has never been good which explains the Yokohamas
4 stars.
Given
61%
while driving a
Volvo S40 2.0d
(205/55 R16 V) on
a combination of roads
for 4,000
spirited
miles
These tyres are on the front axle. They are quiet and comfortable. Grip is only average in dry, slightly worse in wet- but still ok. Wear rate isn't good either. Wouldn't buy them again.

Given
32%
while driving a
Volkswagen Golf
(195/65 R15) on
a combination of roads
for 0
average
miles
I replaced the original Continental Eco tyres with these and immediately wished I had stayed with the Contis. the OK points are the grip in the dry and possibly the wet ( wet roads have been very rare where live in South Australia this year!)
Bad points are many - Noise is bad, with a annoying vibration from some part of the bodywork.
Fuel consumption seems to have increased
Wear is bad - I got 70,000kms from the Contis, but will probably get only half that from these.
So, while they may be OK even good, on some cars they are not suitable for a series 6 Golf.