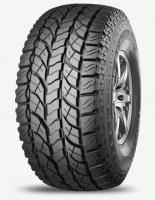 Yokohama Geolander AT S Reviews (newest first) - Page 1
Appart from being mediocre on ice, this tyre has done everything i ever asked it to do. Being a geologist i have to drive to some remote and off road places for my fieldwork and the geolandars have never let me down. I used them on gravel, mud, snow, grass, sand, loose rocks, any material you can think to drive on, and they never let me down. I was especially impressed on steep loose rock based inclines, where the grip was phenomenal, as well as medium to deep mud, where i could easily drive off the track and get myself killed. The only "letdown" of these tyres are the ice grip, where they do seem to struggle, but for their budget and being an AT - all season tyre i couldn't ask anything more.
Given
84%
while driving a
Hyundai Santa Fe
(225/45 R17) on
mostly town
for 0
average
miles
Although I havent been driving the car for long with these tyres, I believe they will last long enough.
I use these tyres on my mitsi shogun on really rough terrain (low ratio 4x4) in the mountains of northern Spain. The terrain is rocky tracks, dry gravel and when the weather kicks in deep mud and deep snow (0.5m).. Even towing half tonne loads up steep slopes these tyres don't lose grip.They only last about 12 months, 10000 miles but given the conditions I'm happy with that. On tarmac they are great, no road noise, handle well, feel good. I've only ever had one puncture in the rough ground and it was a slow one which is amazing.
HTH
Given
87%
while driving a
Subaru Outback 2009
(225/45 R17) on
a combination of roads
for 43,000
average
miles
Whilst I never really explored the dry and wet limits of these tyres what I can say is that in snow they are fantastic: levels of grip only expected from studded tyres. As for wear, we sold our car at 43,000 miles and there was still a little useable tread on the original fronts and rears!
Given
89%
while driving a
Honda 2006
(215/65 R16 H) on
a combination of roads
for 33,000
easy going
miles
Super tyres lasted 3yrs & 33000 miles,diagonal wheel change only once.Replaced General Grabbers which lasted 2yrs &23000 miles.Would I purchase again? Absoloutely 4 replacements ordered.
Bought these for my Grand Cherokee 2.7 CRD. Found them to be excellent on and off road. Handling on the road is good. Off roading they were more then capable, (not talking extreme off roading). Had no worries whatsoever in mud, wet, uphill climbs etc etc. I will definitely be buying again.