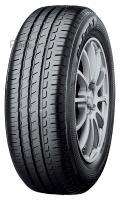 2015 Tyre Tests

2014 Tyre Tests

2012 Tyre Tests
Sorry, we don't currently have any label data for the Yokohama BluEarth AE01
Sorry, we don't currently have any questions and answers for the Yokohama BluEarth AE01. Why not submit a question to our tyre experts using the form below!
Ask a question
We will never publish or share your email address
Top Yokohama BluEarth AE01 Review
Given
75%
while driving a
Nissan
(175/70 R13 T) on
mostly country roads
for 22,000
average
miles
I fitted 4 new Yokohama BluEarth AE01's on my Nissan Almera 1392cc hatchback 12 months and 22k miles ago, and they transformed the grip and handling of the car. Prior to fitting, the car had a selection of different branded tyres with varied tread depths and ages. Prior to fitting the Yoko's it would easily spin the front tyres up in the wet and felt skittish on wet roundabouts even at low speeds.

With the Yoko's fitted it is all but impossible to spin up the front wheels and it feels very planted and stable when cornering, even on greasy roundabouts. Obviously the car is not a high-powered vehicle, but swiftly accelerating from a standstill is now much safer.

I have no idea about the progressiveness of the tyres as I have never attempted to breach the limits of the Nissan's modest handling.

Road noise was drastically reduced on fitting these tyres, they have worn evenly but are now looking like they could do with being changed as the tread is getting to around 3mm all round. I swapped the front and rear tyres over after approximately 6 months as the fronts were wearing quicker than the rears, though this is only to be expected with a FWD car. The road noise has increased as the tread has worn down, though the appalling state of UK roads does this no favours at all.

I think I will need to replace the tyres in the next 5000 miles (3 months) due to tread wear, I will probably try a different tyre in the same price bracket (£50 - £60 per tyre) to compare the grip and longevity to the Yokos. I have had positive experience with Avon ZV5s in the past, so will probably try those next.

Overall I would recommend these tyres, though be aware they are only moderately durable. I would suggest that these fall further towards the grip end of the grip - durability scale, certainly I cannot speak highly enough of the difference they made to my Nissan's road manners but have worn quicker than I'd have liked.
Latest Yokohama BluEarth AE01 Reviews
Have you driven on the Yokohama BluEarth AE01 tyre?
Have YOU got experience with the Yokohama BluEarth AE01? Help millions of other tyre buyers
Given
54%
while driving a
Ford Fiesta
(155/80 R13) on
mostly motorways
for 8,000
easy going
miles
A wear fest for my Fiesta. Lasted a year and only 8000 miles.

Economy, handling etc was good, but the wear!
This to fit to our 2nd car to replace the OEM Falken tyres. My current first impression are:
- comparing to the falken, the tyres felt softer, but noisier
- the grip and handling in the wet and dry condition is just as good if not better than the Falken - subjectively, i like to think it's better. They are quite reassuring.
- given the current street price for a japanese made tyres, i think they are excellent value for money.
Given
71%
while driving a
Nissan Micra
(165/70 R14 T) on
mostly town
for 12
easy going
miles
I replaced all four tyres with Yokohama BlueEarth AE01. Excellent grip wet and dry but very disappointing wear. Original tyres supplied by Nissan lasted over 20,000 miles but these are down to their legal wear limits at just over 12,000. Will try another brand next time.
Mazda
(195/50 R15) on
mostly motorways
for 50
average
miles
I fitted a set of Bluearth AE01 A tyres to a Mazda Demio and now 2 years later I have just topped the 80,000km (50,000 miles) mark on the tyres and its just reached the the wear indicators. I could say these are the best tyres I have come across so far. I fill up with nitrogen to the manufacturers recommended pressure so that it maintanes the uniform pressure for longer than ordinary air and with tyre rotations at every 10,000kms with alignments checks I have been able to get this milage with which I am very satisfied. No complaints at all. Handles very well in wet and dry weather particularly at high motorway speeds, remarkably reduced road noise compared to the Dunlops I had on eearlier. Very smooth ride. Good work Yokohama, keep them rolling!!!!