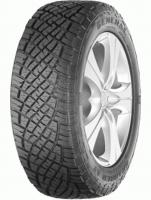 General Grabber AT Reviews (newest first) - Page 1
Actually so poor in the wet I would consider them dangerous. Fine in the dry and quite good offroad though. Won't be buying again as living in the UK wet weather handling is important. Nowhere near the legal limit but I will be changing them soon.
I fitted these tyres on the new disco 5 for when we are driving on very muddy fields and farm tracks and cannot be more than happy Have been great in snow and deep muddy fields would buy again
Have these on a Mitsubishi Pajero Sport (Portuguese). I drive extensively on dirt tracks and volcanic sand along with tarmac in the Azores up and down very steep hills. The tyres in 40 degree slopes of forest mush I have to say have gripped fantastically, but only in 4 wheel drive, in 2 wheel rear, forget it, they dig a trench as expected. The ride is excellent off road and the steering response and grip is very good. On tarmac however, in the rain, a bit useless, they do not give by snapping away from the road, but at lowish speed they do tend to drift a bit (but this could be more to do with the cars weight and condition of the tarmac). Tyre wear has been a bit disappointing having only lasted 12000km, but I have to say the sand and gravel probably wore them away more than anything. They replaced a set of Michelins, which were really bad in these conditions. On road, they were quiet for being a 4x4 tyre so I would buy them again after going through a few different brands to find equilibrium.

I've researched extensively the best AT tyre for the Freelander 2 and have found the General Grabber AT 255/50 R19 to be perfect. And, yes, the AT is the latest version!
Why it took so long to find these tyres to be recommended, I don't know. But, thank goodness I got there....
I have had TEN punctures with these tyres in 6 years. The garage tells me the low profile needed for my 20 inch rims along with the design of the AT means the side wall is weak, so everytime I hit a kerb or deep pothole they burst. Disaster
Given
96%
while driving a
Jeep Grand Cherokee
(245/65 R17) on
a combination of roads
for 7,000
spirited
miles
I have the gen grabs at on a Jeep Grand Cherokee and they drive like road tyres on the road wet or dry even when you push it on a bit the so quite down the road compared to bf Goodrich maybe the bfs are a little better in the mud but if your off road a lot you want mud tyres I think but the grabber do both very well will easy get you out of a wet muddy field just spinning them to clean the tread I think they really are the best all rounder especially if you do more road and wet grassy muddy fields I would buy them again with out thinking so quite on the road for a a/t tyres
I believe that the info' at the top of the page under "summary" is incorrect. Grabber came out some years ago with the AT. Then they produced the AT2 which is shown in the photo. Then a few yesrs ago the NEW pattern tyre was produced to comply with new noise polution regs. This tyre is called Grabber AT. ie. back to the FIRST name used for the tyre. It may be there's a different tyre produced for USA but I don't think so. Mine are produced at Continental in Hungary.
This is to inform that the tyre in the photo on this page is the OLD Grabber AT2. The Grabber AT sold today (and since about 2010) has a different tread pattern -and reduced road noise- compared to the OLD AT2. I wrote a rapport in april 2015 when my Grabber AT's were quite new. Drove them all summer 2015 in Norway until about november when I changed to my winter Conti Viking CrossContact for the colder weather. I am still pleased with the Grabber AT fitted to my MB GLK 4-matic. The only negativ is the slightly increased road noise particularly in the 40-60 km/t speed range. Cruising at 80-90 km/t on good road surfaces gives acceptable noise levels -on my car anyway. The tyres will go back on again as soon as the OAT is up to +10 degres C.
Given
81%
while driving a
Land Rover Discovery 2
(255/55 R18) on
mostly country roads
for 10,000
average
miles
Fitted these tyres when we gor our Discovery 2 as the PO had put some cheap ones on, due to the tyre size there was not a great choice but heard good reviews. They are prity much faultless apart from that I find you get better ride by increasing the PSI by 2 on both the fronts and rears than what the recomended is. Only downside is that I find that in the wet they can spin up a bit to easily when pulling away but apart from that they are good tyres and will probably buy again.