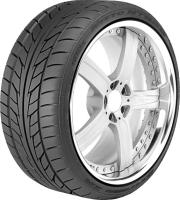 Nitto NT555 Reviews (newest first) - Page 1
Given
51%
while driving a
Ford Mustang gt
(235/50 R18 W) on
a combination of roads
for 15,000
spirited
miles
Tires do not provide the traction I need in the dry or wet. I can spin the tires at 25% throttle. Wet traction is even worse. Would not recommend this tire for vehicles with over 300 HP or around that figure. Tires slip and do not provide a confident driving experience. Apart from that the road noise is fairly loud especially on the highway. And this is coming from a straight piped V8 mustang...
Given
91%
while driving a
Daihatsu Perodua Myvi
(195/45 R15) on
a combination of roads
for 1,000
spirited
miles
feels planted abit like semi slick on dry roads..best summer tyre money can buy! done 35000km still grips strong although front 50% rear 30%
One of the best tire for Summer Performance Tire...car feels planted & the more you push its feels like sticky on the road which gives excellent grip!
Used Yokohama C-Drive 2 before, good tires brilliant in wet, Nitto NT555 compared to Toyo T1R..friends both drive Honda Civic same car one T1R another NT555, NT555 accelerates faster in straight line...besides that its much more quiet than T1R...this tire had been reviewed & its mainly for enthusiasts/ tuners who wants most etc cornering, straight line acc..it simply delivers!! As mentioned its "Fueled by Enthusiast"..
Given
70%
while driving a
BMW 520d
(225/45 R17) on
mostly motorways
for 20,000
spirited
miles
This tyre is soft suit for summer. Sporty looks

Grip is fine on dry roads. On wet is fair enough for only 100-140 km/h.

The only flaw I found us little noise from the tyre when I drive around 50-70 km/h.

And this tyre after 35,000 km will keep losing grip and become noisy.