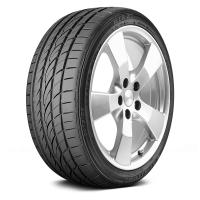 Sumitomo HTR Z III Reviews (newest first) - Page 1
Given
87%
while driving a
MINI Cooper S
(215/45 R17) on
a combination of roads
for 18
spirited
miles
Running theses on my 2002 MINI S. These tires are perfect for spirited driving and fantastic in heavy rain. I like them so well I'm on my 8th set on this car! I get about 23-28,000 miles on a set. Ran Pirelli (run flats) Kumho, and Coopers. Sumitomo's are by far my favorite. BTW....277,000 miles on my MINI
Given
89%
while driving a
Ford Fiesta Zetec S
(195/50 R15 R) on
mostly motorways
for 13,000
easy going
miles
These tyres are good for price
Given
66%
while driving a
Kia Motors Forte Koup
(225/50 R17 W) on
a combination of roads
for 50
average
miles
they are what they are, a summer tire maybe one of the best in that matter and on wet surface they work very good but the real problem is their side grip on wet surface , you can brake and be sure that they will stop the car in rain on a straight line but if you are not experienced enough their side skiing can make a disaster, trust me many times i felt their side instability not in corners! No, they dont need corners to ski even the change in asphalt materials can make you lose control, As a mechanical engineer I ONLY recommend them if you live in a dry place.
Given
60%
while driving a
BMW 335i
(225/40 R19 W) on
a combination of roads
for 1,000
spirited
miles
I bought this 1month ago and for some reason at first i put these in rear of my car (which should be 255.30.19) and amazingly it was the best tire i ve ever had in my rear axel , it was the best grip i v ever had , and then i found the michelin pss and put these in there right place in front axel , and now these are very bad in cornering and braking , use these tires just in rear of your car
Ford
(245/40 R17) on
mostly town
for 100
spirited
miles
I was recommended 245/40/17s by ian diffan and they were incompatible with the traction control as the diameter was incorrect but sumitomo did come to the party and replaced with 245/45/17s that cured the problem but proved not only to be no where near as good for grip or traction as the pirelli's they replaced but look terrible to the point of replacing them within a week to my loss
Given
96%
while driving a
Nissan GT R
(265/35 R18) on
mostly country roads
for 10
spirited
miles
Excellent dry and wet grip, very predictable tyre. Would certainly buy again.
Given
63%
while driving a
Mercedes Benz C32 AMG
(255/35 R18 W) on
a combination of roads
for 1,000
spirited
miles
Reasonable grip in the dry for the price, quite and comfortable. Diabolical in the wet. Traction control cannot keep these things on the road. I'd fit these to an awd or low powered rwd but 350hp+ at the rear is shows these tires limitations very quickly.
Given
80%
while driving a
Subaru Impreza WRX STI
(225/45 R17 W) on
a combination of roads
for 40,000
average
miles
These are a solid wet weather tyre with excellent wear properties over standard OEM (Bridgestone Re040) tyres. They are a little skidish during hard cornering on dry services and lack a fair amount of dry grip. I'm a little gun shy after unpredicted drift into a bend. I will opt for a more grippy tyre to enjoy more spirited driving. As a daily drive its a good value tyre though, particularly for your grandmothers car.