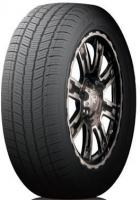 Zeetex S100 Reviews (newest first) - Page 1
Given
23%
while driving a
Volvo C30 1.8
(205/55 R16 V) on
mostly motorways
for 1,500
average
miles
Got these on a set of secondhand rims+tyres in 2015.
Were rubbish. Steering was suddenly extremely light compared to summer tyres (same width), Sliding on roundabouts in dry and wet, and suddenly after 2 weeks the sidewall of one of them cracked.

I don't trust these anymore at all, dot code is from 2011.

These are winter tyres (Ice plus and the walls), but just plain bad. The only advantages were low fuel economy and they were pretty silent.
Given
10%
while driving a
Honda Civic
(185/60 R14) on
mostly country roads
for 100
easy going
miles
I purchased 4x Zeetex S1oo winter tyres,i kept them on the car Honda Civic two weeks, dreadful handling, i there not exceed 40 mph, in corners the car had a mind of its own, these tyres would rob you of your confidence to drive. I now can see why Insurance companys are not happy re fitting winter tyres.These were supplied by Mytyres,they were out of stock of my choices Pirelli and Dunlop,so it was their choice supplying a mid-range tyre.Fit them at your pearl,the only thing i would put them on would be a trailer,i have four tyres sitting in the garage,what a waste of money fitting them and removing same.