Continental Premium Contact 5 - Launched

It's not often a new tyre is launched with not one, but two first place awards in magazine group tests, but that's exactly what has happened with the new Continental Premium Contact 5.

With the new tyre labelling laws coming into effect this year, tyre manufacturers have a real set of goals to aim for. A tyres wet grip, rolling resistance and noise levels will be displayed on every tyre sold, and could be the difference been a sale or not.

While certain manufacturers with limited resources might concentrate on the 3 label criteria, premium manufacturers like Continental have to design their tyres to excel in every category. The new Continental Premium Contact 5 does just that, by not only improving in the 3 label criteria, but also many other areas tested when compared to the Continental Premium Contact 2 (there was no Premium Contact 3 or 4!)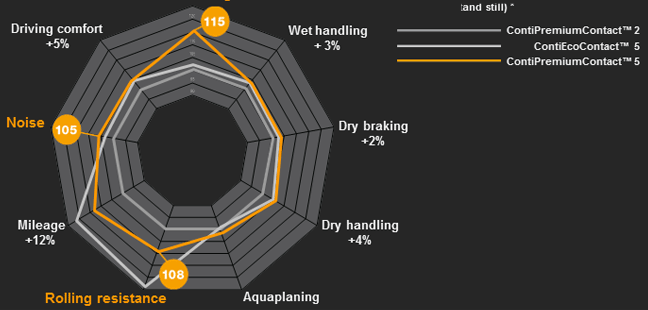 Designed for small to medium sized vehicles, the Premium Contact 5 excels in wet braking and rolling resistance when compared to it's predecessor, stopping 15% shorter and using 8% less fuel. To achieve this target the Premium Contact 5 utilises a number of new manufacturing techniques in the tread pattern and sidewall section of the tyre.
The Tread
While many people believe the tread pattern influences grip, it's main purpose is to evacuate water in wet conditions. To do this, tyre manufacturers cut grooves in the tread, which increase rolling resistance and noise. Continental have minimised these losses, using several clever technologies described below.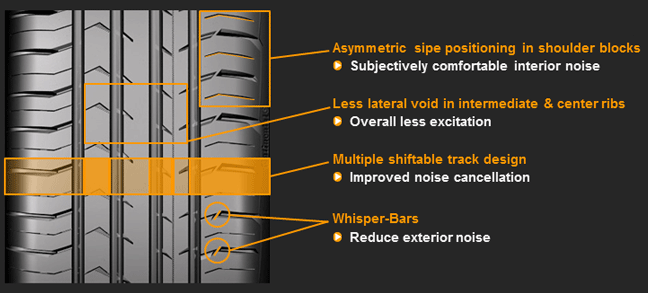 The Sidewall
The sidewall of a tyre influences many aspects of a tyres performance, from how it feels on the road, the comfort of the tyre, how much road rumble is transmitted to the cabin and the fuel used. The compromise between steering feel and comfort is a difficult one to balance, but to help balance this Continental heavily worked on the belt edge and the shoulder area to significantly lower rolling resistance. Continental also managed to make the sidewall more flexible than before to increase comfort, but reinforced the bead area to maintain handling accuracy.

Available in 14" to 17" sizes, the Continental Premium Contact 5 is on sale now, and judging by the initial test results, it's going to be the tyre to beat in summer 2012.
Further Reading:
Further Tyre Information