Goodyear Eagle F1 Asymmetric 3 SUV - First Drive
Words by Paul Hadley from Motor Verso, be sure to check out his excellent automotive news website.
The demand for quality SUV tyres is rising fast following the surge of interest in the sports SUV market. In the last 5 years we have seen an introduction of 60+ new SUVs and over the next 5 years there is 40+ more to come. Therefore, Goodyear, a household name in the world of tyres, has developed a new ultra-high-performance (UHP) tyre specifically for SUVs: the Goodyear Eagle F1 Asymmetric 3 SUV.
With the new Asymmetric 3 SUV, Goodyear is targeting the ever-enlarging performance SUV market. These are heavy and tall cars with a lot of power under the bonnet, coupled with large responsive brakes, and the new tyre has been designed to preserve handling and braking balance in all conditions.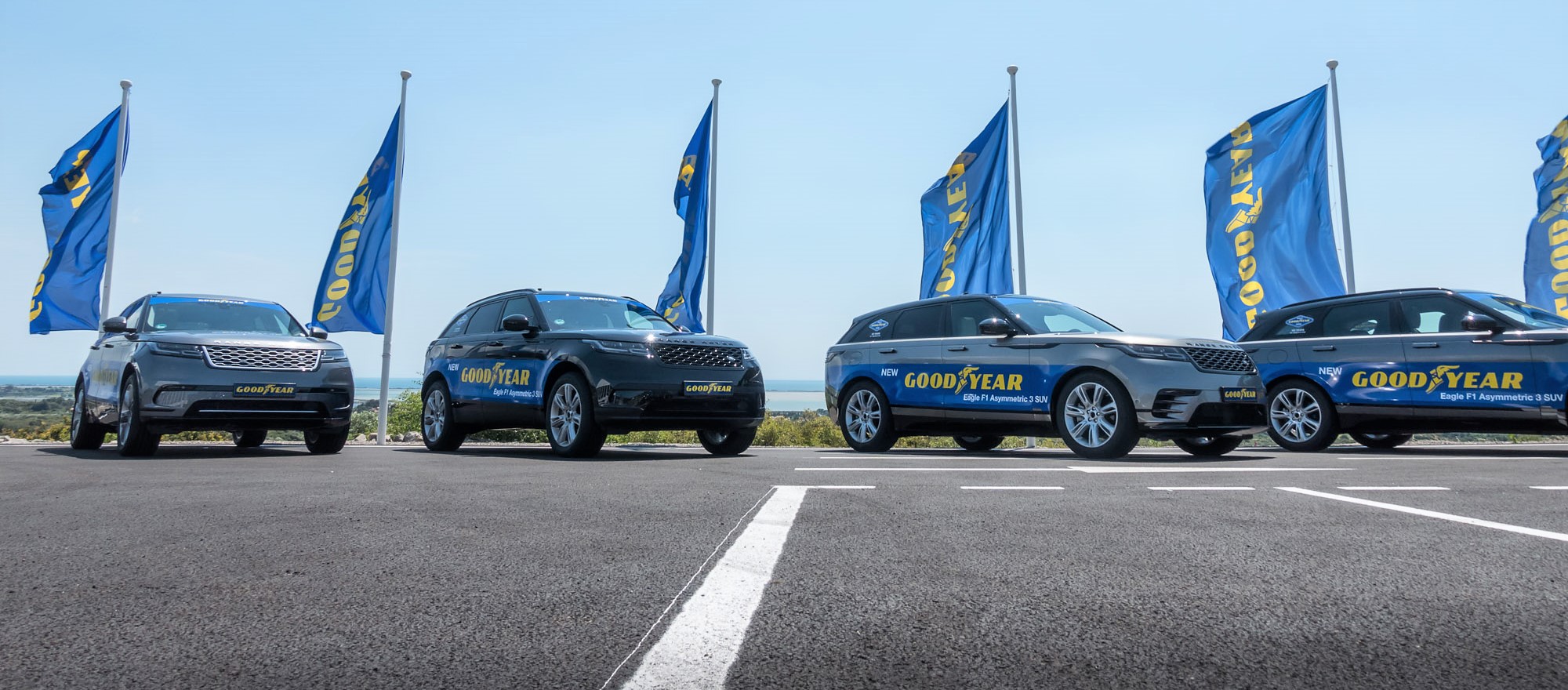 However, these SUVs also emphasise ride refinement and a stylish on-road manner. Therefore, these tyres must withstand severe abuse under performance driving, while preserving the excellent roadworthiness that buyers expect. They must perform well during wet conditions too, which is important, especially for these tall SUVs.
The Technology and Innovation
Of course, Goodyear is well aware of these demands. With the Eagle F1 Asymmetric 3 SUV representing their flagship summer SUV tyres, they've incorporated their finest manufacturing know-how.
One of the more intriguing technologies found in the new tyre is 'ActiveBraking'. That sounds impressive, but the tyre essentially increases in contact surface while braking. The tyres tread patch expands while experiencing additional breaking pressure, which increases the braking surface available, allowing the car to brake more effectively.
Part of that 'ActiveBraking' technology comes from Goodyear's choice of tyre compound. It's a new mixture: rich in silica content, with high natural rubber content, meaning that the Asymmetric 3 SUV is surprisingly soft and pliable.
Goodyear have also implemented their 'Grip Booster' technology. It injects adhesive resin into the compound, so when in pursuit for more traction, the tyre can generate more grip by being able to meet the small gaps in the road's surface.
As it's designed specifically for SUV applications, Goodyear have also optimised the tread design to cope with typical usage. This is described by the brand as 'SUV-Optimised Construction Technology' and means that the different tyre layers are further reinforced to cope well with the extra weight.
This helps to reduce deterioration at high speeds, making the tyres more stable. This is crucial when you consider that these SUVs can accelerate to well over 100 mph, without breaking a sweat. The whole SUV-optimised construction also means that Goodyear have introduced new construction layers. This further reduces mass and increases strength, effectively cutting down on rolling resistance.
You may also notice that the Asymmetric 3 SUV is, as the name suggests, an asymmetric tread pattern. That, along with wide, deep grooves in the tyre allows water to expel better, reducing aquaplaning and increasing high-speed wet driving stability. The asymmetric tread pattern coupled with larger outside shoulder tread blocks with less grooving and sipes, should also help when cornering.
Another noteworthy feature is the 'UHP Cool Cushion Layer'. This technology improves temperature control and reduces wear and tear on the tyres when cornering. These new technologies are a great improvement on the last Asymmetric SUV tyre and should entice the performance SUV crowd.
Initial Driving Impressions
We tested these Asymmetric 3 SUVs on a selection of high power Range Rover Velars, a fine representation of a modern, sporty SUV suited to normal roads. Initially, you will notice that the sidewalls of the tyre are quite elaborate. Its geometric, brutish look complements the Velar well, in my opinion.

The amount of traction available in dry conditions is astonishing. Harsh acceleration and high-speed cornering provided a great feeling of confidence behind the wheel, with exceptional levels of traction being demonstrated during testing on the track. The tyres certainly helped you get more of a car driving dynamic than a classic SUV feel. Braking performance is similarly impressive as the Velar slows down nicely. Carrying out a selection of braking scenarios, we experienced short braking distances and complete car control which was impressive.
These tyres maintain their composure even in extreme wet weather, instilling even more confidence in the driver. We got the opportunity to carry out a variety of tests in the wet and the tyre does provide that ultra high-performance response and grip that you expect making it a solid choice for the premium and sporty SUV market.

Astoundingly, despite offering a sporty feel, the Asymmetric 3 SUV tyres doesn't stint on comfort either. Tyre noise is very acceptable at motorway speeds, and they respond well to bumps and potholes without upsetting the ride.
Verdict
We found Goodyear's Eagle F1 Asymmetric 3 SUV tyres to be very impressive. They maintain the attributes of the Range Rover Velar, a performance SUV very well. Tyre wear is something we'll have to find out further down the line, but Goodyear promise good results. Right now, I can confirm that these tyres are a valid option for your on-road SUV and I doubt that you will be asking for more grip than they can provide.
Words by Paul Hadley from Motor Verso, be sure to check out his excellent automotive news website.
Further Tyre Information