Goodyear UltraGrip 9 - Launched
Goodyear have launched the new Goodyear UltraGrip 9, in time for the 2014 winter season.
The UltraGrip line has a strong heritage, and with 94% of reviews saying they'd buy the UltraGrip 8 again the UltraGrip 8 was an extremely strong winter tyre. With the UltraGrip 9, Goodyear have managed to improve outgoing tyre in every way.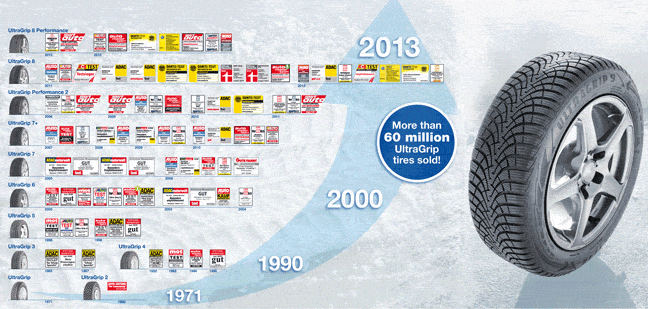 Development
During development Goodyear tested in seven different locations around the world, and manufactured and tested over 70 different prototype patterns in various sizes. This has lead to the UltraGrip 9 being the first Goodyear tyre to be sold with two different tread patterns.
When compared to the larger sizes, the smaller 14" versions of the UltraGrip 9 enjoys an extra centre rib. This gives the smaller size better snow and aquaplaning performance due to the extra edges and water channels the centre rib provides, while the larger sizes, without the rib, have more edges by default. This allows the larger version to retain an excellent snow performance, but also offer increased stability and handling on larger, heavier vehicles.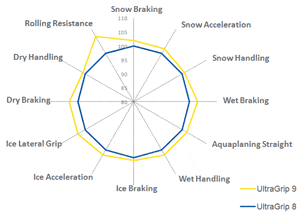 Further improvements for the UltraGrip 9 come from the compound, which has improved plasticisers which keep the new tyre softer at lower temperatures, without compromising higher temperature and wet running.
The end result? A tyre, which when independently tested by the German organisation TUV, stopped 4% shorter than the UltraGrip 8, and improved in every tested category.
Testing
During the launch, we had a number of opportunities to test the UltraGrip 9, with the most interesting being wet braking. We had two identical VW Golfs, one fitted with the new Goodyear, and the other the excellent Michelin Alpin 5. In our own testing, when repeatedly stopping from 50 to 1 km/h on a wet epoxy low grip surface, the Michelin stopped, on average, 2.5 metres longer than the Goodyear, giving the Michelin fitted car a remaining speed of 15 km/h when the Goodyear tyre had stopped.
The Goodyear UltraGrip 9 has also been featured in a 2014 German winter tyre test, finishing in the top three positions thanks to a strong all round performance. As with previous Goodyear winter tyres, the UltraGrip 9 will be competitively priced when compared to other premium rivals.
For the 2014 winter season, the new Goodyear UltraGrip 9 is one of the best 14 to 16 inch options on the market.
Further Reading
Full Launch Size List
165/70R14C 89/87R
185/65R15 88T
195/60R15 88T
165/70R14 81T
185/65R15 92T XL
195/60R16 93H XL
165/70R14 85T XL
195/65R15 91T
205/60R16 92H
175/70R14 84T
195/65R15 95T XL
205/60R16 96H XL
175/70R14 88T XL
195/65R15 91H
185/55R15 82T
155/65R14 75T
205/65R15 94T
195/55R16 87T
175/65R14 82T
205/65R15 94H
195/55R16 87H
175/65R14 86T XL
185/60R14 82T
205/55R16 91T
175/65R14C 90/881
175/60R15 81T
205/55R16 91H
185/65R14 86T
185/60R15 84T
205/55R16 94H XL
165/65R15 811
185/60R15 88TXL
175/65R15 88T XL
Further Tyre Information