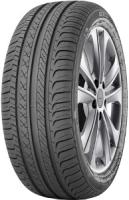 GT Radial Champiro FE1 Reviews (newest first) - Page 1
Given
82%
while driving a
Mazda Mazda 2 TS2
(185/55 R15 V) on
a combination of roads
for 400
spirited
miles
This tyre gives me the confidence I need when driving, It quietens down my road noise significantly and is a massive upgrade from the budget tires my car came with. Would highly recommend to anyone with budget tires
I've had several sets of these tyres and for the price they're great, not the best in the wet however this is probably made worse by my car being rear wheel drive and powerful. But on the whole I always buy these tyres as they do really well on my car I get about 15-17 thousand out of a set of rear tyres and about 30 ish from a set of front tyres (rear wheel drive bias) and they perform phenomenally well on my car even with it being a high performance vehicle. Would highly recommend (I find these better than premium hankooks.)
Given
94%
while driving a
Fiat Grande Punto TJet
(195/55 R16 V) on
a combination of roads
for 2,000
spirited
miles
Decided to change the "Dunlop's" with something cheaper and what a surprise ... they really do work !! I am an aggressive driver for more than 25 years now and this type of tire is the best value for money i have ever tried on my cars ... definitely i will buy again ..
Given
93%
while driving a
BMW 1 series
(205/55 R16 V) on
a combination of roads
for 40,000
average
miles
Excelent tyre for the price!