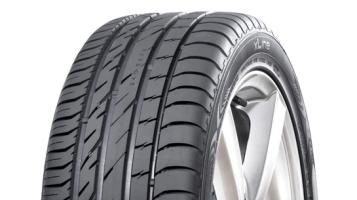 The Nokian xLine is a Premium Touring Summer tyre designed to be fitted to Passenger Car
Show All
Tyre review data from 2 tyre reviews averaging 100% over 33,000 miles driven.
Latest Group Test Results
2012 Auto Express Summer Tyre Test - 4th of 8 tyres
Overall - The new Nokian xLine, due at the end of this year, put in an extremely strong performance to joint 4th place. Best in every test in the wet, and 2nd in the dry, the new Xline was let down by an average aquaplaning result and a poor rolling resistance
View All Tests >>
Sorry, we don't currently have any label data for the Nokian xLine
Sorry, we don't currently have any questions and answers for the Nokian xLine. Why not submit a question to our tyre experts using the form below!
Ask a question
We will never publish or share your email address
Top Nokian xLine Review
Subaru Legacy
(215/45 R17) on
mostly motorways
for 23,000
spirited
miles
Put on the car at 135000km sold car at 172000km still had 4mm of thread on them, but had circumference cracks, I put the "as recommended by Subaru" tyre pressure 2.3bar front 2.2bar rear, but according to Nokian it recommends 2.6 front and 2.5 rear, would be nice if someone/anyone advised of this,
Great tyre though, not a bother in snow or winter maybe the Subaru complimented them,
Latest Nokian xLine Reviews
Have you driven on the Nokian xLine tyre?
Have YOU got experience with the Nokian xLine? Help millions of other tyre buyers
Subaru Legacy
(215/45 R17) on
mostly motorways
for 23,000
spirited
miles
Put on the car at 135000km sold car at 172000km still had 4mm of thread on them, but had circumference cracks, I put the "as recommended by Subaru" tyre pressure 2.3bar front 2.2bar rear, but according to Nokian it recommends 2.6 front and 2.5 rear, would be nice if someone/anyone advised of this,
Great tyre though, not a bother in snow or winter maybe the Subaru complimented them,