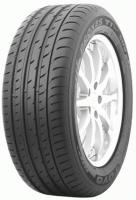 Toyo Proxes T1 Sport SUV Reviews (newest first) - Page 1
Jeep
(265/50 R20 V) on
a combination of roads
for 27,000
average
miles
These tyres have lasted miles. They have rim protecting cross section and quite on the motorways despite the relative low cost.
I have just ordered a new pair for the front of my Jeep Grand Cherokee having done 27k



Given
81%
while driving a
Hyundai Santa Fe
(225/60 R18) on
mostly town
for 15,000
average
miles
Medium up range tyre but abit low wear on SUV labelled, 23000km almost their limit. Abit costly at my area, 200sgd for 225/60R18. Not willing to buy again.
Given
51%
while driving a
BMW X5 3.0d Sport
(275/40 R20 W) on
a combination of roads
for 5,000
spirited
miles
Have driven 5000 miles fronts have four mm left evenly on both front tyres so alignment should be ok back 315s have six mm left but keeping lookout for sign of cords coming through on inside edge ok so far . Drive mix of roads to work 30/40 60 . Have the odd blast .
Great tyres, had Toyos on my work van few times before so tried these on my Range Rover, good spirited driving on country roads and motorways, really improved the handling on a big heavy car compared to the cheaper tyres that were fitted before. Great on country roads and smooth on motorway cruising. 17500 miles so far and still 40-50%.Will certainly buy again.