Continental WinterContact TS860 S - Press Release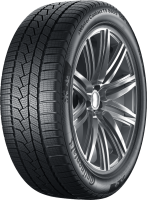 The replacement to the hugely successful
Continental WinterContact TS850 P
ultra high performance winter tyre has been launched!
Unfortunately we're not due to be driving on the new
Continental WinterContact TS860 S
until early 2018, so for now here's the Continental press release. Keep an eye on Tyre Reviews into 2018 for our first impressions.
Press Release - New Continental WinterContact TS 860 S
New winter tyre for sports cars and high-performance luxury saloons available now.
Specialist winter tyre consistently designed with safety and sporty driving in mind.
With the new WinterContact TS 860 S Continental is showcasing a winter tyre for sports and high-powered cars designed for dynamic driving. The WinterContact TS 860 S will be available in the replacement and original equipment market, with Continental intending to offer automakers their own customised versions with different handling properties at the highest level. The new tyre delivers top performance in terms of braking distances and handling on dry roads, as well as handling properties on snow. For the coming winter, the new WinterContact TS 860 S will be manufactured in 14 sizes. The line-up will include diameters from 18 to 21 inches, with approvals for speeds of up to 168 mph.
With the new WinterContact TS 860 S, Continental is responding to the many different needs of the manufacturers and drivers of high-performance cars. So when the tyre was being developed, the focus was above all on short braking distances and precision handling in the dry, as well as on top-class handling properties on snow. This winter specialist achieves its short braking distances by means of its "braking groove" – a wide groove running through the center of the tread, offering a large surface with which to build up grip. Stiff, broad shoulder blocks deliver maximum grip for a precision steering response, while the many tread grooves and traction sipes in the tread blocks make for good interlocking with snow, enabling dynamic driving even on typical wintry roads. For the replacement sector, Continental has prepared a compound that delivers high flexibility even in winter. On the original equipment front, Continental is intending to meet the specific and different needs of automakers such as Audi Sport GmbH, BMW M Gmbh, Mercedes-AMG and Porsche with customised rubber compounds in each case.
This new high-performance winter tyre takes up the baton from two top-performing models, the ContiWinterContact TS 830 P and the WinterContact TS 850 P, both of which scored top marks in a variety of tests conducted by car magazines. The two predecessor models were also very popular as original equipment. The TS 830 P, for example, brought in 104 manufacturer approvals, while the TS 850 P with its smaller model range drew almost 50 approvals. In advance of its market launch, the new WinterContact TS 860 S is already undergoing approvals testing with leading European automakers.
On the sidewall, the new winter tyre displays not only the product name and the many mandatory identification marks but also the stylised checkered flag from the U-UHP summer tyre SportContact 6, as well as the familiar snowflake motif that appears on the other winter tyres from Continental. The tyre passed the necessary tests for the three-peak mountain snowflake symbol that all approved winter tyres coming onto the market from this winter onward must bear. On the EU Tyre Label, the new winter tyre achieves a Group C rating for wet grip and, depending on the specification, a Group B, C or E rating for rolling resistance. In the noise rating, this very quiet tyre was awarded the two black bar symbol.
At the time of market launch, Continental will initially have 14 sizes available for 18 to 21-inch rims, six of which will feature SSR runflat technology and ContiSilent technology for particularly quiet running. The WinterContact TS 860 S will be available in widths of between 225 and 315 millimeters with aspect ratios of 60 to 30 percent and approved for speeds of up to 168 mph (speed index "W").
Update:
Here is the current and 2018 q1 range, please note the dates are subject to change. SSR = Runflat.
03551410000

225/45R19 96V XL FR WinterContact TS 860 S SSR

03551550000

225/60R18 104H XL FR WinterContact TS 860 S SSR

03551860000

255/55R18 109H XL WinterContact TS 860 S SSR

03551420000

265/40R19 102V XL FR WinterContact TS 860 S

03551530000

275/40R20 106V XL FR WinterContact TS 860 S

03551510000

285/40R20 108V XL FR WinterContact TS 860 S SSR

03551430000

295/35R19 104V XL FR WinterContact TS 860 S

Coming Soon

03551490000

245/50R19 105V XL WinterContact TS 860 S SSR

01/03/2018

03551500000

255/45R20 105V XL FR WinterContact TS 860 S SSR

01/02/2018

03552670000

265/50R19 110V XL FR WinterContact TS 860 S

01/02/2018

03551460000

275/35R21 103W XL FR WinterContact TS 860 S

01/01/2018

03551520000

295/35R21 107V XL FR WinterContact TS 860 S

01/12/2017

03551470000

315/30R21 105W XL FR WinterContact TS 860 S

01/01/2018

03551440000

315/35R20 110V XL FR WinterContact TS 860 S

01/01/2018
Further Tyre Information