Do wider tyres give you more grip? Different tyre widths tested and explained
Do wider tyres give you more grip? The logical answer would be yes, the wider the tyre, the more rubber in contact with the surface, but it isn't that simple.
As a tyre gets wider, the footprint of the tyre changes. While the footprint does get wider, it also gets shorter, and how the tyre changes under camber and load is altered too.
Instead of worrying about the theory of wider tyres, I decided to actually do the test and let the results speak for themselves. It was a complicated test, and after nearly a years planning, and a large amount of help from Goodyear, the resulting video should tell you all you need to know about fitting wider tyres!
Below the video is all the technical data from the test. If you have any further questions once you've watched the video, please feel free to comment on YouTube and I will answer the best I can.
Wheel and Tyres Used
Tyre
Goodyear Eagle F1 Asymmetric 3
Sizes
225/40 R19 93Y - 9.1 kgs - EU label C rolling resistance A wet grip - 8J ET36 Wheel
255/35 R19 96Y - 9.9 kgs - EU label C rolling resistance A wet grip - 8.5J ET38/47 Wheel
285/30 R19 98Y - 11.5 kgs - EU label C rolling resistance A wet grip - 9.5J ET48 Wheel
Wheels
8Jx19 - 14.1 kgs
8.5x19 - 14.1 kgs
9.5x19 - 14.06 kgs
Pressures
225/40 R19 front @ 2.2 bar, 225/40 R19 rear @ 2.6 bar
225/40 R19 front @ 2.2 bar, 255/35 R19 rear @ 2.4 bar
255/35 R19 front @ 2.0 bar, 255/35 R19 rear @ 2.4 bar
255/35 R19 front @ 2.0 bar, 285/30 R19 rear @ 2.4 bar
225/40 R19 front @ 2.2 bar, 285/30 R19 rear @ 2.4 bar
Footprints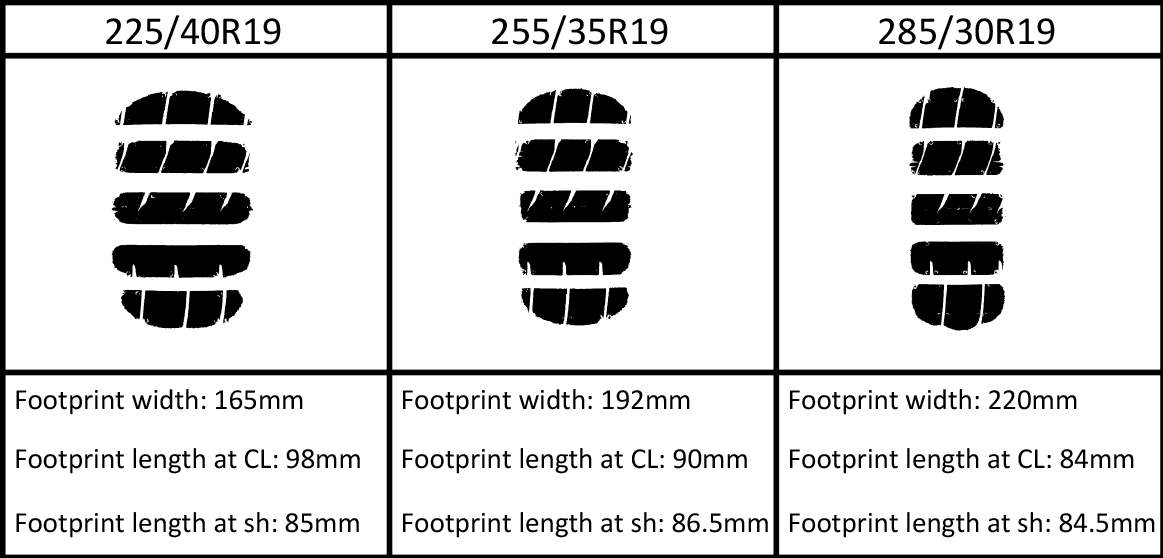 Data