Michelin CrossClimate - First Review
As mentioned in the launch report, the new Michelin CrossClimate is the most interesting tyre of recent times, and as such we were keen to find out how it performs in the real world. After a few polite emails to Michelin, we managed to secure one of the first sets in the country, which Mike, one of our regular contributors of all season and winter tyre reviews, is currently putting through a long term test.
After a few weeks running, here's his initial report. There will be an update later in the year once the frost and snow performance has been evaluated. So far, it looks promising when compared to the current class leading all season tyre, the Goodyear Vector 4Seasons. Check back this Autumn where Mike will update his review, and cover the cold weather performance of the tyres!
Update 1 - 5,000 miles
We've covered 5,000 miles now on the Michelin CrossClimate tyres since May 2015. We're still very impressed with the smooth-running nature of these tyres. No matter what type of road surface they're faced with they always provide a noticeably quieter and more compliant ride than most other premium branded summer and all-season tyres we have used.
Talking of noise, road roar from the tyres in the cabin had reduced markedly over the Goodyear Vector 4Seasons that were on the car previously. The harmonics produced by the CrossClimate tyres are also, odd as it may seem to say, more soothing on the ears. This is especially noticeable on rough road surfaces on streets that are lined with terraced houses. Motorway journeys are a much more pleasant affair with reduced cabin noise allowing us not to have to raise our voices quite as much when chatting with passengers in the rear.
Tyre wear is nice and even across all four tyres, the fronts being down at 5.5mm and the rears still looking like new with approx' 7mm.
As I mentioned in a previous review of these tyres, their ability to channel water out of the tread contact patch is very impressive. This leaves you with a very confident driving car which you feel happy to press-on with over rain-soaked roads: more and more common at this time of year unfortunately. Cornering agility remains intact on drenched surfaces too affording you more grip and speed round corners . . . more speed than you might actually feel comfortable doing in such conditions.
It really goes without saying that driving on dry roads is good fun on these tyres; plenty of steering feel and bite, encouraging you to go a bit harder than you normally would on B-roads and round roundabouts etc.
Fuel consumption has decreased slightly over the previous Goodyear Vector 4Seasons: 45mpg improves to 47mpg throughout summer on the CrossClimate tyres.
I have been showing some of my car-loving neighbours the CrossClimate tyres and pointed them in the direction of YouTube reviews and tests, especially the recent one by Tyre Reviews, pitting it against its competitors on an indoor ski slope. It'll be interesting to see if any of them will buy a set when it comes time to change their tyres for peace of mind, all-year-round confidence.
Initial Report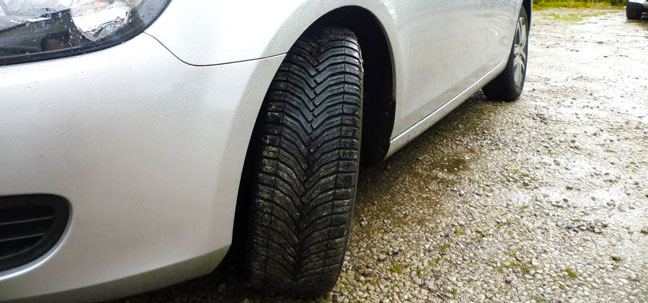 At the beginning of May 2015 I replaced a superb set of Goodyear Vector 4Seasons which had covered 35k miles for a full set of Michelin's latest Cross Climate tyres. Interestingly, these 'summer' tyres are winter-rated with the 3PMSF symbol stamped on the sidewall. They were fitted to a VW Golf in 205/55 R16.
In addition to the distinctive V-shaped pattern I've noticed there are is only a single sipe running through each treadblock (there are many more sipes on the 'all-season' Vector 4Season tyres.) Also, when you rub your hand over the tyre they are very smooth and lack the coarseness associated with a winter tyre's tread surface.
To date I've covered around 800 miles on a mixture of motorways, A and B roads as well as very tight and windy single-track roads out in the sticks of Cheshire. The tyres have also been subject to dry, wet, cold and warm road surfaces – so they've had some pretty thorough tests so far.
In the dry the Michelin's don't require as much steering lock to navigate around a set corner as the Goodyear's did. Along with this there is a very positive feel to the amount of grip generated on initial turn-in and the change of direction feels more crisp. The Goodyear's sometimes tended to feel like they were running wide mid-corner and a bit extra steering lock needed to be dialled-in to counter this. I suspect the Michelin tyres have more rubber in contact with the road surface in direct comparison to the Goodyears' as they don't have sipes in the tread blocks and the channels are narrower.
On wet roads the Michelin tyres feel like they remove water from the tread area more effectively than the Goodyear tyres. Having had a look at both tyres the pathway to evacuate water from the tread area looks more logical in the Michelin tyres and this translates to more confidence to push a bit more in the corners or travel a higher speeds on the motorways. More rubber in contact with the road surface and a good resistance to hydroplaning gives the Michelin's additional traction and the car seems better able to carry more speed through the corners and generate higher grip levels in the wet.
Out on the motorway they track a straight line nicely therefore minor steering corrections to maintain road position are not needed. The general ride quality of the car now seems more serene compared to the Goodyear's which tended to transmit a slightly rough sound/drone through the cabin at 70mph. The Michelin tyres seem to have reduced the car's drive-by noise level in direct comparison to the Goodyears'; when the windows are down the tyre roar is noticeably reduced.
Recently during heavy rain, the Michelin tyres coped very well indeed with the deep pockets of surface water on the M6. Hydroplaning seems well suppressed and the car isn't dragged off line by the water-filled ruts created by trucks in lane 1 – impressive.
Driving on fast A and B-roads gave the Michelin tyres the opportunity to shine as they easily pick a set line though a corner with little evidence of running out of grip when pressing on a bit. Hard braking too from high speeds during the rain was not an issue; no wandering and plenty of braking force produced from the tyres without triggering the ABS.
I know it's way off yet but I'm curious to see how these 'summer' tyres handle frost, ice, snow and, probably most unpredictable of all, slush. Living in the hills of Lancashire I'm pretty confident I'll be able to answer this for you either towards the end of this year or early next year.
Mike
Further Tyre Information