Transport Secretary changes mind on winter tyres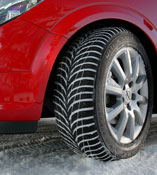 Last week the UK transport secretary, Mr Hammond, claimed winter tyres are not suitable for the UK's roads and would be a waste of money in our climate.

After over a week of backlash from motorists and the press, including TyreReviews own article "why winter tyres ARE suitable for the UK climate", Mr Hammond has had the chance to correct his original statement and has thankfully done so with more accuracy than his last attempt.

Ms Gisela Stuart (Birmingham, Edgbaston) (Lab): The last time the Secretary of State gave a statement on the weather, I asked him about winter tyres. He told me that he did not think them appropriate for this climate and this country, and indeed that David Quarmby looked at the matter. Try as I may, I could find no reference to winter tyres in the Quarmby report. The only advice I found was from the Highways Agency, which says: "The safest option in these conditions is to fit winter weather tyres which are specifically designed to provide extra grip and improved levels of safety".
Will the Secretary of State please now reconsider his response?

Mr Hammond: I am grateful to the hon. Lady for giving me the opportunity to clear something up—I clearly mangled my words in my reply to her. I was trying to convey that in the circumstances of the UK, and given the cost of fitting winter tyres, I do not believe it appropriate to mandate their use. However, I am happy to confirm on the record that for those who can afford winter tyres—not just the cost of buying them, but the costs of putting them on and changing them back at the end of the winter, and of storing summer tyres—they provide significant additional grip for motoring in such cold conditions.
Snow chains, however, are a different matter. It is illegal to use snow chains on roads that are not covered in compacted snow, because they cause considerable damage to the road surface.

A huge thank you to the honourable Ms Gisela Stuart for playing her part in raising the topic of winter tyres, and to all those of you who have been lobbying your local MPs, news outlets and broadcasters for clarity on this matter.
Further winter tyre reading
-
7 reasons to consider winter tyres
-
2010 Winter tyre buying guide