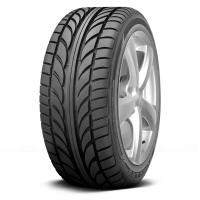 The Achilles ATR Sport is a Ultra High Performance Summer tyre designed to be fitted to Passenger Car
Show All
Tyre review data from 44 tyre reviews averaging 53% over 346,990 miles driven.
Latest Group Test Results
2012 Autobild 50 Tyre Braking Test - 29th of 45 tyres
View All Tests >>
Sorry, we don't currently have any label data for the Achilles ATR Sport
Sorry, we don't currently have any questions and answers for the Achilles ATR Sport. Why not submit a question to our tyre experts using the form below!
Ask a question
We will never publish or share your email address
Top Achilles ATR Sport Review
Wet weather? No. I have a 2008 Sti making about 250whp. In the rain it drives like it's rwd. It loses traction like no tomorrow. Now dry weather handling is quite surprising considering they at as cheap as they are. Probably would by again if I was in a money crunch and couldn't afford good high performance tires.
Latest Achilles ATR Sport Reviews
Have you driven on the Achilles ATR Sport tyre?
Have YOU got experience with the Achilles ATR Sport? Help millions of other tyre buyers
Given
47%
while driving a
Satria Neo
(205/50 R16 V) on
track
for 2,000
spirited
miles
"You get what you pay for". Funny how a tyre with the word "sport" in it is worse than a normal road or eco tyres in the market. Went on multiple track sessions, from technical autocross courses, tight karting like circuits and high speed f1 circuits. The undeersteer in these are phenomenal. Its not as noticeable in the high speed circuits but im struggling for grip in the other courses. The tread pattern itself lasts a long time but with only a few undesteering screeching, im starting to lose alot of rubber on the edges. Daily road use wise, its as good as an average economy tyre. Noise is slightly loud but bearable for me. Recommended you decrease your speed on wet roads because its prone to hydroplanning, although i gotta admit for a "sport tyre", its not that bad in wet conditions. Id say, if youre not looking for extra quality tyres for your 'A to B' commute, by all means. It lasts quite sometime and its cheap. Plus, it looks nice. Its my fault bringing this tyre to a track but with a proclaimed level like this, I would've imagine it could atleast keep up with the ventus12 evo 2 or the ps31. I know i couldve opted for semi slicks but im trying to not go overkill. Im experimenting on multiple tyres. Final words, if you dont mind low end tyres, you're not going racing (apart from weekend drift sessions), really on a budget, then go for it. But if you have a specific trim and standards youre searching and looking for in a tyre, then i can tell you, search deeper
Given
24%
while driving a
BMW 530i
(225/45 R17) on
a combination of roads
for 12,000
average
miles
Horrible!
Minimal traction in normal conditions, atrocious in the wet. Traction control continuously intervenes especially if there are any road undulations.
The older they get the harder they become and the traction issues are only compounded.
Avoid at all costs!

Not really good in the wet. Okay in dry. Very noisy as it harden with time.
These tyres are lethal!!!even in slightly rainy conditions , I found my car fishtailing under moderate acceleration in a straight line and I just managed to catch two rear end slides at junctions and roundabout. Seriously do not buy no matter how cheap . I have been driving for 50 years and have had many performance cars, so I have a fair idea how to drive them. I have never been as frightened in a car before. I immediately went to another dealer and got Michelin sr4s ...confidence back now.
Given
37%
while driving a
Hyundai elantra
(205/55 R16) on
a combination of roads
for 20,000
average
miles
Awful grip be it in dry or wet. While cruising on expressway, it was dry, going above 100kmh will got me swinging from left to right even when my steering remain straight. Dry grip is so terrible.

I'm wet, non existent.

The only good thing is that it will never wear out.

Do not buy this. I repeat. Do not buy this. I've just replaced with Michelin PS4 and never look back.