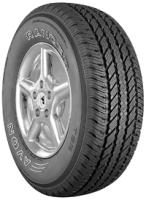 The Avon Ranger is a High Performance Summer tyre designed to be fitted to SUV and 4x4
Show All
Tyre review data from 12 tyre reviews averaging 87% over 158,000 miles driven.
Sorry, we don't currently have any magazine tyre tests for the Avon Ranger
| Size | Fuel | Wet | Noise | Weight |
| --- | --- | --- | --- | --- |
| 235/60 R16 100H | F | C | 71 | 12.18kgs |
| 235/70 R16 106H | F | C | 71 | 14.14kgs |
| 245/70 R16 107H | F | C | 71 | 15.29kgs |
| 275/70 R16 114H | F | C | 72 | 18.05kgs |
Sorry, we don't currently have any questions and answers for the Avon Ranger. Why not submit a question to our tyre experts using the form below!
Ask a question
We will never publish or share your email address
Top Avon Ranger Review
Given
50%
while driving a
Nissan Qashqai
(225/45 R17) on
a combination of roads
for 65,000
easy going
miles
I replaced my original fit tyres on a 2litre Qashqai being pleased to find a British made tyre. However although their were characteristics are great (35000 and still some left)after about the first 20000 miles they became extremely noisy at all speeds and different road surfaces. I checked with Avon Technical and the supplier but no explanation other than a vague reference to "constellating" and an invitation to replace them at my expense in order to return to Avon for testing and report. I decided to "live with it" until the next replacement (now coming up) but am reluctant to go the same way again.
Latest Avon Ranger Reviews
Have you driven on the Avon Ranger tyre?
Have YOU got experience with the Avon Ranger? Help millions of other tyre buyers
Given
81%
while driving a
Jeep Libery
(235/70 R16) on
a combination of roads
for 6,000
average
miles
They started with over 12mm of tread, they are remoulds using the old bfg all terrain pattern, they are 3PMS snow rated. I have run them on motorway, back roads, snow, deep muddy fields and confirm, they defy all expectations of a remould. They balance well although are difficult to mount due to a really stiff sidewall. They are obviously noisy compared to a road tyre, and slightly more than the Goodyear Wrangler AT that was originally fitted. Fuel economy has dropped only by 1 or 2 mpg. In snow they are strong and grippy, no squeal in rain, mud they just dig in, used recently to recover several cars bogged in at a camp site. I have run around 6000 miles, barely a mm has gone from tread.
i have run these on my range rover on and of road very happy with the results superb tyre just a shame i cant get replacement anymore when i find a tyre that fits my needs i like to stick with it
used in snow no problems never stuck some of the snow up to 150mm deep on farm tracks etc.

good on dry roads, good on wet roads not much slip, but very noisy on all roads
Given
100%
while driving a
Land Rover freelander
(195/80 R15 T) on
mostly country roads
for 0
average
miles
Just had 4x Avon Ranger Tyres fitted, they suit my car very well with a good chunky tread. I will always fit Avon to any vehicle I own they are a very reliable tyre.