Bridgestone Blizzak LM001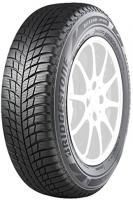 2018 Tyre Tests

2017 Tyre Tests

2016 Tyre Tests

2015 Tyre Tests

2014 Tyre Tests
| Size | Fuel | Wet | Noise | Weight |
| --- | --- | --- | --- | --- |
| 155/65 R14 75T | E | C | 71 | 5.90kgs |
| 165/65 R14 79T | E | C | 71 | 6.21kgs |
| 175/65 R14 82T | E | B | 71 | 6.92kgs |
| 175/65 R14 86T XL | E | C | 71 | 7.06kgs |
| 175/65 R14 82T | E | C | 71 | 7.06kgs |
| 185/65 R14 86T | E | C | 71 | 7.31kgs |
| 175/70 R14 84T | E | C | 71 | 7.10kgs |
| 185/70 R14 88T | E | C | 71 | 7.80kgs |
| 195/55 R15 85H | E | C | 72 | 7.31kgs |
| 185/60 R15 88T XL | E | C | 71 | 7.63kgs |
| 185/60 R15 84T | E | C | 72 | 8.31kgs |
| 195/60 R15 88T | E | C | 72 | 7.56kgs |
| 195/60 R15 88H | E | C | 72 | 7.56kgs |
| 185/65 R15 88T | E | C | 71 | 7.83kgs |
| 185/65 R15 88T | C | B | 71 | 7.50kgs |
| 185/65 R15 92H XL AO | | | | 8.58kgs |
| 195/65 R15 91H | | | | 8.68kgs |
| 195/65 R15 91T | E | C | 72 | 8.29kgs |
| 195/65 R15 95T XL | C | C | 72 | 9.01kgs |
| 205/65 R15 94H | E | C | 72 | 9.91kgs |
| 195/45 R16 84H XL | E | C | 72 | 7.64kgs |
| 195/55 R16 91V XL AO | E | B | 71 | 8.55kgs |
| 195/55 R16 87H | E | C | 72 | 8.33kgs |
| 195/55 R16 87H * | E | C | 72 | 10.56kgs |
| 195/55 R16 87H * | E | C | 72 | 10.58kgs |
| 205/55 R16 91H * | E | B | 72 | 9.47kgs |
| 205/55 R16 91H * | E | C | 72 | 11.47kgs |
| 205/55 R16 91H * | E | B | 72 | 9.57kgs |
| 205/55 R16 91V AO | | | | 9.61kgs |
| 205/55 R16 91H * | E | C | 72 | 11.45kgs |
| 205/55 R16 94H XL | E | C | 72 | 9.13kgs |
| 205/55 R16 94V XL | E | C | 72 | 9.13kgs |
| 205/55 R16 91H | E | B | 72 | 8.74kgs |
| 215/55 R16 93H | E | C | 72 | 10.85kgs |
| 215/55 R16 97H XL | E | C | 72 | 10.85kgs |
| 225/55 R16 95H | E | C | 72 | 10.07kgs |
| 225/55 R16 99H XL | E | C | 72 | 10.07kgs |
| 185/60 R16 86H | C | B | 71 | 7.68kgs |
| 205/60 R16 92H | E | C | 72 | 9.12kgs |
| 205/60 R16 92H * | E | B | 72 | 9.87kgs |
| 205/60 R16 96H XL | E | C | 72 | 9.13kgs |
| 205/60 R16 96H XL * | C | B | 72 | 9.81kgs |
| 205/60 R16 92H * | E | B | 72 | 12.10kgs |
| 205/60 R16 96H XL * | C | B | 72 | 11.76kgs |
| 205/60 R16 92H AO | C | B | 72 | 9.51kgs |
| 205/60 R16 92H * | E | B | 72 | 12.12kgs |
| 205/60 R16 92H * | E | B | 72 | 9.87kgs |
| 215/60 R16 99H XL | E | C | 72 | 8.69kgs |
| 205/65 R16 95H * | C | B | 72 | 10.09kgs |
| 205/70 R16 97H | E | C | 72 | 10.18kgs |
| 215/70 R16 104H XL | | | | 12.90kgs |
| 215/45 R17 91W XL AO | | | | 9.42kgs |
| 225/45 R17 91H * | C | B | 72 | 10.50kgs |
| 225/45 R17 94V XL | E | B | 72 | 9.64kgs |
| 235/45 R17 97V XL | E | C | 72 | 11.46kgs |
| 245/45 R17 99V XL | E | C | 72 | 12.41kgs |
| 215/50 R17 95V XL | E | C | 72 | 10.87kgs |
| 225/50 R17 98V XL | E | C | 72 | 10.75kgs |
| 225/50 R17 98H XL * | C | B | 72 | 12.77kgs |
| 225/50 R17 94H * | E | B | 72 | 12.92kgs |
| 225/50 R17 94H MOEXTENDED | | | | 13.07kgs |
| 225/50 R17 98V XL | E | C | 72 | 10.75kgs |
| 225/50 R17 94H AO | | | | 10.77kgs |
| 225/50 R17 98H XL AO | E | C | 71 | 11.15kgs |
| 225/50 R17 98H XL * | C | B | 72 | 10.70kgs |
| 225/50 R17 98H XL | E | C | 72 | 10.76kgs |
| 225/50 R17 94H * | E | B | 72 | 12.92kgs |
| 205/55 R17 91H MO | C | B | 71 | 9.45kgs |
| 205/55 R17 95H XL | E | C | 72 | 9.52kgs |
| 215/55 R17 94V AO | E | C | 72 | 10.76kgs |
| 215/55 R17 98V XL | C | C | 72 | 10.57kgs |
| 215/55 R17 98V XL | C | C | 72 | 9.94kgs |
| 225/55 R17 97H * | C | B | 72 | 13.43kgs |
| 225/55 R17 97H | | | | 13.40kgs |
| 225/55 R17 97H * | C | B | 72 | 11.02kgs |
| 225/55 R17 97V | E | B | 72 | 11.21kgs |
| 225/55 R17 97H * | C | B | 72 | 10.94kgs |
| 225/55 R17 97H * | C | B | 72 | 11.16kgs |
| 225/55 R17 97H * | E | B | 72 | 13.42kgs |
| 225/55 R17 97H * | C | B | 72 | 11.08kgs |
| 225/55 R17 97H * | E | B | 72 | 13.47kgs |
| 205/60 R17 93H * | C | B | 72 | 9.97kgs |
| 225/60 R17 99H | | | | 13.45kgs |
| 225/60 R17 99H AO | C | B | 72 | 11.70kgs |
| 215/65 R17 99H MO | C | B | 71 | 10.60kgs |
| 215/65 R17 99H AO | C | B | 72 | 11.28kgs |
| 215/65 R17 99H | | | | 12.57kgs |
| 225/65 R17 102H | | | | 14.65kgs |
| 225/40 R18 92V XL * | C | B | 72 | 10.28kgs |
| 225/40 R18 92V XL AO | | | | 10.80kgs |
| 225/40 R18 92V XL | E | C | 72 | 10.87kgs |
| 235/40 R18 95V XL | E | C | 72 | 11.16kgs |
| 245/40 R18 93V AO | E | C | 72 | 10.86kgs |
| 225/45 R18 95V XL | E | C | 72 | 10.64kgs |
| 225/45 R18 95H XL * | C | B | 72 | 11.68kgs |
| 225/45 R18 91H MO | C | B | 71 | 9.77kgs |
| 245/45 R18 100V XL | E | C | 72 | 11.51kgs |
| 225/50 R18 95H * | C | B | 72 | 13.73kgs |
| 245/50 R18 100H * | C | B | 72 | 15.47kgs |
| 255/50 R18 106V XL MO | C | B | 70 | 13.18kgs |
| 215/55 R18 95T C+ | | | | 10.59kgs |
| 225/55 R18 102V XL AO | C | B | 72 | 11.92kgs |
| 235/55 R18 104S XL | | | | 12.79kgs |
| 235/55 R18 100H AO | C | B | 72 | 12.25kgs |
| 225/60 R18 104H XL * | C | B | 72 | 13.14kgs |
| 225/60 R18 104H XL * | C | B | 72 | 15.75kgs |
| 225/60 R18 104H XL * | C | B | 72 | 13.18kgs |
| 255/35 R19 96V XL | E | C | 73 | 12.21kgs |
| 245/40 R19 98V XL | E | C | 72 | 11.48kgs |
| 245/45 R19 102V XL * | C | B | 72 | 14.53kgs |
| 235/50 R19 99H MO | C | B | 71 | 12.19kgs |
| 205/55 R19 97H XL | C | C | 71 | 10.14kgs |
| 255/55 R19 111H XL AO | C | C | 72 | 15.52kgs |
| 255/35 R20 97W XL | | | | 11.71kgs |
| 295/35 R20 101W A5A | E | C | 75 | 15.40kgs |
| 255/40 R20 101V XL MO-S | C | B | 70 | 12.64kgs |
| 255/40 R20 97W A5A | F | C | 73 | 13.50kgs |
| 215/45 R20 95V XL * | | | | 10.36kgs |
| 215/45 R20 95V XL * | | | | 10.36kgs |
| 235/45 R20 96H MO | C | B | 71 | 11.81kgs |
| 245/45 R20 103W XL AO | C | C | 72 | 12.29kgs |
| 255/50 R20 109H XL AO | C | B | 73 | 15.69kgs |
| 255/55 R20 110H XL * | C | B | 73 | 19.65kgs |
Sorry, we don't currently have any questions and answers for the Bridgestone Blizzak LM001. Why not submit a question to our tyre experts using the form below!
Ask a question
We will never publish or share your email address
Top Bridgestone Blizzak LM001 Review
Given
96%
while driving a
CitroŽn C Elysee
(185/65 R15 T) on
a combination of roads
for 9,000
average
miles
Good winter tyre, on snow grip is great, I drive with them on new snow about 30 cm and tyre work great on snow. Will buy again.
Latest Bridgestone Blizzak LM001 Reviews
Have you driven on the Bridgestone Blizzak LM001 tyre?
Have YOU got experience with the Bridgestone Blizzak LM001? Help millions of other tyre buyers
At 10c in UK december, these offer very poor dry and wet grip compared to a summer tyre. Comfort levels are decent though. The V12 DB11 just has too much power, it's constantly on TC and braking distances are increased
Given
47%
while driving a
Hyundai i30
(225/45 R17 H) on
mostly motorways
for 1,874
average
miles
Very noisy on asphalt (intolerable) and consume more fuel about 9%. The tires are new then grip on wet is not so bad.
150 'ā¨ per tire not so cheep but is a Premium Brand, ok but... value for money for promised performance is like an economic tire. not buy them!
Previuos tire Hankook I*cept RS (W442) bad on wet but more comfortable.
It's actually my first time I buy Bridgestone, Normally I set buy Hankook.

Those Bridgestone were the worst I've ever tried. The grip on dry is faily good but even thought they are winter, wet grip was very bad.
They are very noisy and consume more fuel. I'm driving Mercedes and when I had my Hankook I could easily drive 190 KM/H with winter tyre, with those Bridgestone i could barely reach 180 with a very noisy sound inside the car.

Buying them again? Hell nooo
Absolutely amazing tyres, have them on my car for a winter set, cannot fault them. Occasionally "Tram line" but nothing major. I've covered 10k on them and will buy again.
Given
91%
while driving a
Opel Corsa C
(175/65 R14 T) on
a combination of roads
for 11,200
average
miles
First time i ever had Bridgestone but i feel safer than ever when driving them in snow/ice/rain terain. They are pretty reliable, you can start your car without spining on these difficult wheather conditions and most of all you can stop your car easily and at the distance you expect.