Falken EUROALL SEASON AS200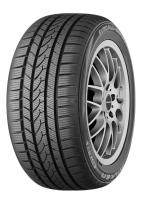 The Falken EUROALL SEASON AS200 is a Touring All Season tyre designed to be fitted to Passenger Car
This tyre has been replaced by the Falken EUROALL SEASON AS210
Show All
Tyre review data from 19 tyre reviews averaging 83% over 198,515 miles driven.
Latest Group Test Results
2017 Auto Bild All Season Tyre Test - 7th of 10 tyres
Positive - Good aquaplaning resistance, good wet braking, low price.
Negative - Poor snow grip, poor wet handling, high rolling resistance.
2017 Auto Express All Season Tyre Test - 5th of 10 tyres
Positive - A solid mid pack performance, with wet handling being a strength.
Negative - Struggled in the snow, noisy.
2017 All Season VS Winter Tyre Test - 7th of 11 tyres
Positive - Good wet handling
Negative - Weak grip in the snow, long dry braking, high rolling resistance
View All Tests >>
2017 Tyre Tests

2016 Tyre Tests

2015 Tyre Tests

2014 Tyre Tests

2013 Tyre Tests
Sorry, we don't currently have any label data for the Falken EUROALL SEASON AS200
Questions and Answers for the Falken EUROALL SEASON AS200
2016-09-19 - Hi Can you tell me if the as200 is suitable for a ix35 tyre size 225/55/18/98h 4x4 Otherwise is there an all season tyre you could recommend Many thanks
Assuming they make the tyre in your size and load index, there's no reason the Falken AS200 wouldn't be suitable for your 4x4. The other all season tyre worth considering would be the Michelin CrossClimate SUV, depending where in the world you are.
---
Ask a question
We will never publish or share your email address
Top Falken EUROALL SEASON AS200 Review
Had for 3 years now, done 4 trips to the Alps on 2 different cars. Did keep just for the winter season and skiing trips however, this year kept on over the summer too. Had planned to "drive them out" and buy some new ones however, 8k of driving over the summer months and only 1mm loss of tread so guess they will do another winter. Great in the snow, since I've had them haven't need the snow chains and this has involved some pretty scary mountain roads in a couple of inches of snow. Good in the summer too, quiet and confident.

In reality, have got rid of a set of part worn summer tyres and will replace with AS200 when they finally need replacing. Best bit of these tyres is when it snows in the UK and you can drive past people struggling with summer tyres!
Latest Falken EUROALL SEASON AS200 Reviews
Have you driven on the Falken EUROALL SEASON AS200 tyre?
Have YOU got experience with the Falken EUROALL SEASON AS200? Help millions of other tyre buyers
December 2017 heavy snowfall 7" in Worcestershire, the Falken AS200 were terrific, they sailed over deep snow, slush, and sheet ice. I drove in a heavy snowstorm for 200 miles with no problems. They are fitted to a Subaru Forester and together they seemed unbeatable, iced hill starts, deep snow, slush just driven over without hardly a wheel spin. My previous Subaru Outback was fitted with the same tyres and I drove to Italy in the July heat without excessive wear and good handling on the mountain passes.
Brian Woodhouse.
Given
81%
while driving a
Chevrolet 2012 Cruze
(215/50 R17) on
a combination of roads
for 32,000
average
miles
Good compromise between price and performance. They lasted 2 year and 32000 miles. Very good aquaplanning resistance. I hardly noticed any difference of behaviour between very cold and hot conditions. On the third winter perhaps some grip may be lost. I tryed them only once in light snow and they performed very safely . I would reccomend these tyres if a particular performance is not needed.
Given
80%
while driving a
Chevrolet Lacetti
(195/55 R15) on
a combination of roads
for 15,000
easy going
miles
I have these Falken All Season tyres on our family sedan, Chevrolet Lacetti 1,8 automatic. This is a simple every day car, with a moderate power to the ground, so generally this tyres are good, great value. On other important point to consider : these Falkens has strong enough sidewalls to go up- and down on kerb while parking.

I will buy only all-season tyres in the future for this car.
Tyre finally taken out by a screw @ 35000 with over 3mm tread left. This is a comparatively high mileage tyre - non-directional so you can swap sides unlike competing all-seasons at present. Really quiet, comfortable and didn't lose traction in the mild snow we have had (whereas the summer rear tyres did when slightly pushed in corner). Imparts a sense of confidence despite bad the weather. Grip and handling similar to the likes of Bridgestone all season and Goodyear summer tyres but I don't push the tyres hard. Slightly more prone to aquaplaning than BridgestoneA001 at motorway speed. Weaknesses: Slight over lightness when newish and hence slightly less feedback -- though this partially resolves as the tyre wears in. But wow, it's so much cheaper than others with equivalent performance; justification for the premium brands seems weak. If you do long distances on motorways and you have to be able to travel, I think this is a really good option for the UK.
Given
20%
while driving a
Toyota AYGO
(165/60 R15 T) on
mostly country roads
for 400
average
miles
I put these tires under my car a week ago., I used these tires in normal dry condtions. The tires are cheap to buy and not noisy. The problem occured by braking, then these tires are very unstable on a dry asphalted road. They move to the right. Also the back tyres are very nervous, not steady on normal conditions. In the corners by dry weather you got a bit of understearing. I changed for comparising these tires for continental summertires and these tires reacted much better on dry conditions. So now i am sure that i will never use these Falken euroseason tires ever again. For the record a mecanic did test these tires and came to the same conclusion, the car is not stable with these tires.
Concerned driver, Netherlands, Toyota Aygo 165/60 R 15