Hankook DynaPro A/TM RF10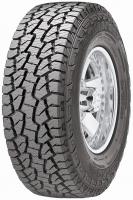 Sorry, we don't currently have any label data for the Hankook DynaPro ATM RF10
Questions and Answers for the Hankook DynaPro ATM RF10
2017-11-10 - Please what is the ply rating on the hankook RF10 tyres I can't find it anywhere.
Unfortunately we're unsure on the ply of the RF10. If you email Hankook support they should be able to help.
---
Ask a question
We will never publish or share your email address
Top Hankook DynaPro ATM RF10 Review
Given
79%
while driving a
Nissan Navara 2.5tdi
(245/45 R16) on
mostly country roads
for 2,000
average
miles
only had them on for 3 months when a small stick went through the sidewall on one of my back tyres , had to throw it away and buy a new one ,, am thinking that maybe the sidewall is very thin ?? would love some feedback from anyone that's had a similar problem ..
Latest Hankook DynaPro ATM RF10 Reviews
Have you driven on the Hankook DynaPro ATM RF10 tyre?
Have YOU got experience with the Hankook DynaPro ATM RF10? Help millions of other tyre buyers
Given
84%
while driving a
Nissan 2002 patrol
(255/65 R17) on
mostly country roads
for 40,000 miles
40000 miles on a set
Given
97%
while driving a
Ford Ranger
(235/75 R15) on
mostly country roads
for 20,000
average
miles
Excellent tyres at reasonable price. Performed better than Goodriches and General Grabbers I had previously. Very good off road and in snow. Have ordered a set for my new Isuzu 4x4 pickup.
Given
87%
while driving a
Ford Ranger
(255/70 R16 T) on
a combination of roads
for 8,000
spirited
miles
I got these tyres as BF Goodrich were way out of my price range I had them fitted back in December of 2017 and it has been a very good purchase compared to the continental Tyres it had from new the tyres give great grip and I have never had the back end slip out once with the Hankook Tyres compared to the continental tyres which made me choose to change from a road tyre to an all-terrain tyre to be fair I have taken an increase in fuel consumption but it is so small its negligible to me but if you need a good all round all terrain tyre then this tyre sits in my top 3 good ATT's for its price
Excellent tyres. Vehicle Suzuki Grand Vitara. On my second set of tyres now. Got 80,000 Kms out of the first set. Used off road 10% of the time. Good in mud,sand, on road, off road. I live in the upper North Island of New Zealand and have tried various types of tyre on this vehicle over the years. They are the best tyre compromise for on road and off road driving I have ever owned. Only let down is the purchase cost! I haven't driven them in snow as it doesn't snow here. They can, in extreme off road driving be vulnerable to side wall damage. I have had a rail line go through one tyre and large screwdriver go through another. These were both hidden in grass off road.

Given
90%
while driving a
Hyundai Terracan
(225/45 R17) on
mostly town
for 10,000
average
miles
I've been use on my Hyundai Terracan 31/10,50/15 RF10's since 2016 winter. Used on dry,wet and snow. Great tires,these are very silent even 31".