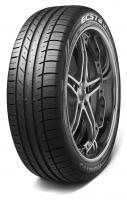 The Kumho Ecsta LE Sport is a Ultra High Performance Summer tyre designed to be fitted to Passenger Car
Show All
Tyre review data from 30 tyre reviews averaging 72% over 355,378 miles driven.
Latest Group Test Results
2018 Auto Review 225/45 R17 Tyre Test - 10th of 11 tyres
2015 AMS Performance Tyre Test - 9th of 9 tyres
Positive - Short braking distance on dry roads
Negative - Poor resistance to aquaplaning, poor dry handling, high rolling resistance
2013 Auto Review Performance Summer Tyre Test - 9th of 9 tyres
Positive - High resistance to aquaplaning, low rolling resistance, price
Negative - Grip on wet and dry roads, handling on wet and dry roads
Overall - The Kumho Ecsta LE Sport is most disappointing on wet roads. This applies to the braking, and the reactions to the actions of the wheel. Dry running isn't much better, with poor high speed stability. Good resistance to aquaplaning gives the Kumho some plus points.
View All Tests >>
Sorry, we don't currently have any label data for the Kumho Ecsta LE Sport
Sorry, we don't currently have any questions and answers for the Kumho Ecsta LE Sport. Why not submit a question to our tyre experts using the form below!
Ask a question
We will never publish or share your email address
Top Kumho Ecsta LE Sport Review
Given
79%
while driving a
Audi A6 Avant 2.0TDI
(225/50 R17 W) on
mostly country roads
for 50,000
average
miles
Bought these to replace the Conti Sport Contacts which were OEM fitments and the only real differences for "normal" driving are that the Kuhmo's are cheaper and last longer so overall much better value
Latest Kumho Ecsta LE Sport Reviews
Have you driven on the Kumho Ecsta LE Sport tyre?
Have YOU got experience with the Kumho Ecsta LE Sport? Help millions of other tyre buyers
I run them on a Seat Ibiza Cupra. As as daily they are okay. Comfort isn't really the best. Wear is okay/good with 30k miles and they have 3mm left Feedback is okay but nothing special. You can tell when they start to loose grip on the racetrack. Wet grip is for sure better than dry grip. I run them twice on a trackday. They tend to overheat quite fast
Given
47%
while driving a
Hyundai coupe 2.0 gls
(215/45 R17) on
a combination of roads
for 5,000
average
miles
Just about to replace these on the front (driven wheels) of my car. Previous owner had put them on (at what mileage I don't know)and had good tread on them at that point but I can't say how long they've lasted. Ive done just over 5k miles on them and they're at about 3mm so I've probably used them for the best part of their tread life. However, this isn't really a tyre to be recommend...wet grip is fair at best and a little better in the dry. Quite safe in aquaplaning depth water though. As with magazine tests reports found the steering to be lazy and slow with them. They're not overly noisy and not that comfy either. Definitely a numb feeling from the steering. Quite a heavy tyre as well by modern standards.
Don't think there will be many interested in a review of an old tyre design like this but for what its worth there is much better out there for the same money,,, got my eye on the new Apollo Aspire XP for much cheapness or Bridgestone Turanza T005 for a bit more dosh. In summary...not a catastrophic tyre but don't bother buying them.
Given
93%
while driving a
BMW Z4 3.0Si
(255/30 R19) on
mostly country roads
for 800
spirited
miles
I bought these to replace a worn pair of Nexen's on a Z4 3.0Si I've not long had, the Nexen's were great so I done some research instead of just buying the usual premium brand, The Kumho rears have been on for roughly 800 miles now and I cant believe the level of grip from a so called budget tyre. I recently had a very spirited club run in some pretty horrible weather and despite the majority of the group twitching all over the road I had no issues at all.

The wear level may be worse than premium brands (will find out in due course) but for budget price and premium performance I'll be sticking to these from now on.
I have just changed the Kumho tyres after 2 years and 30k the rear didn't last quite as long as the front, being a rear wheel drive car. Generally an average tyre that doesn't perform beyond expectations. The front pair, changed today for Firestone's, had 3.5 mm left but were castellated and we're becoming noisy. It is only now with the Firestone's that I notice the difference. The drive now is quieter, smoother and the steering is lighter.
The Kumhos were £90 each fitted, I wouldn't buy them again as there are better tyres for the same money or a few quid more (Firestones £100 fitted): I suppose getting 30k I shouldn't knock them but I don't drive with too much enthusiasm so I can't really rate wet and dry performance and I would expect that sort of mileage from any tyre.