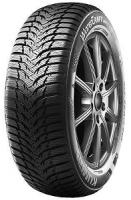 The Kumho Winter Craft WP51 is a Premium Touring Winter tyre designed to be fitted to Passenger Car
Show All
Tyre review data from 12 tyre reviews averaging 74% over 51,600 miles driven.
Latest Group Test Results
2019 ADAC 185/65 R15 Winter Tyre Test - 11th of 16 tyres
Positive - None mentioned
Negative - Relatively wear grip in snow, high wear.
Overall - Good
2018 AMS Winter Tyre Test - 11th of 11 tyres
Positive - Ok in snow.
Negative - Weak in dry and wet, very high rolling resistance.
Overall - Conditionally recommended.
2018 ACE All Season and Winter Tyre Test - 7th of 12 tyres
View All Tests >>
2019 Tyre Tests

2018 Tyre Tests

2017 Tyre Tests

2016 Tyre Tests

2015 Tyre Tests

2014 Tyre Tests
Sorry, we don't currently have any label data for the Kumho Winter Craft WP51
Sorry, we don't currently have any questions and answers for the Kumho Winter Craft WP51. Why not submit a question to our tyre experts using the form below!
Ask a question
We will never publish or share your email address
Top Kumho Winter Craft WP51 Review
I highly recommend these tires. These tires have the highest price/performance ratio and does not differ from any expensive brand.
Latest Kumho Winter Craft WP51 Reviews
Have you driven on the Kumho Winter Craft WP51 tyre?
Have YOU got experience with the Kumho Winter Craft WP51? Help millions of other tyre buyers
Given
68%
while driving a
Renault Clio 172
(205/45 R16 H) on
a combination of roads
for 9,000
spirited
miles
In the winter they're good, not excellent, but good. Enough grip in snow and rain. The performance reflects in the price, they not the best, but great value for money. The downside is in the dry or in the summer. There's no feedback, no grip and the tire simply melts if you want to take a corner faster. But ofcourse they're winter tires, so not meant to be used in hot conditions, and in the cold they're good. Probably I will buy them again because value for money and wear.
I have had 4 seperate winter tires on my car in the past. These would be my 5th winter season in Canada. I live in NB and winters can be wild at times and completely mild at other points. We experience 25 to 40 cm of snow falls in less then a few hours at times and these tires so far have been the best I've used. I've tried hankook, bridgestone, Rotalla, and Momo and these hands down give me more peice of mind then any if those other brands. They are loud in dry roads and have a very aggressive tread so they do wear on your feul economy but you will feel like a tank on the road in any condition.
Probably the worst off all tyres I ever used on my audi A4 and A6 quattro. Wet handling and grip in second season and only 5k km is terrible. Even new one was really bad. Dry is ok. Snow grip is average. It's not loud and relativly comfortable. Overall, total disapointment.
Toyota
(195/50 R16 V) on
mostly town
for 2,500 miles
Quite good on dry and wet on my yaris hybrid 2017. Impressed how they performerd in snow, I have to drive a lot steep uphill and downhill, during the record snowfall of December 2017 I thought I couldn't get home on the evening because roads were horrible and couldn't stay clean for more than 30/45 minutes, I afforded a strong uphill road with some 7 inches slush/snow, in the worst passage the car almost stopped climbing but it somehow managed to get on top and take me home.
I found the kumho tyres very good stopping and gripping on ice.