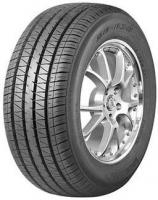 The Maxtrek SU830 is a Touring Summer tyre designed to be fitted to Passenger Car
Show All
Tyre review data from 5 tyre reviews averaging 39% over 21,800 miles driven.
Latest Group Test Results
2015 Market Overview - Braking Test - 54th of 52 tyres
View All Tests >>
Sorry, we don't currently have any label data for the Maxtrek SU830
Sorry, we don't currently have any questions and answers for the Maxtrek SU830. Why not submit a question to our tyre experts using the form below!
Ask a question
We will never publish or share your email address
Latest Maxtrek SU830 Reviews
Have you driven on the Maxtrek SU830 tyre?
Have YOU got experience with the Maxtrek SU830? Help millions of other tyre buyers
Given
80%
while driving a
Ford ba falcon
(225/45 R17) on
mostly country roads
for 5,000
average
miles
Live in the wet tropics & these are fine,check pressure monthly,
cracked and weather worn in 36 mths? made of nylon and polyester? absolute bad handling whether wet, dry or indifferent, have no ''wear'' to speak of but are giving way in the ''steel'' belt. DEFINATELY DO NOT TAKE ANY PASSENGERS, IF YOU WANT TO RISK YOUR OWN LIFE THAT'S DIFFERENT...

Given
24%
while driving a
Mazda 626
(225/80 R19 H) on
mostly town
for 5,000
average
miles
Dangerous on wet roads. Wheel slip on our Mazda 626 front wheel drive car

We need to drive slowly and use our other car if it rains. Don't buy, we need to replace them even though they are not worn out. Bad idea, was not helped by the tyre retailer.
Given
36%
while driving a
Ford Mondeo
(205/55 R16 H) on
a combination of roads
for 10,000
average
miles
Never again.
I had those fitted on car when I have bought it.

Not bad on dry road, but grip goes down when wet and temp. is around 10 C.
1/2 of thread is gone and I have to change due to rain.
Given
29%
while driving a
Honda CRV
(215/65 R16 H) on
a combination of roads
for 1,800
average
miles
dangerous in anything short of ideal road conditiond