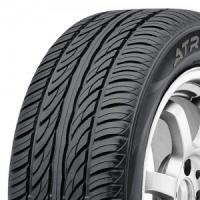 Sorry, we don't currently have any label data for the Sailun Atrezzo SH402
Questions and Answers for the Sailun Atrezzo SH402
2017-01-21 - Since having these tyres fitted I am experiencing very high level of road noise, increasing with speed. Is this normal for these tyres or do I have a problem?
Some tyres can generate tread pattern noise with certain vehicles. There's a chance it could be the tyres, but it would also be worth having checked out by a professional!
---
Ask a question
We will never publish or share your email address
Top Sailun Atrezzo SH402 Review
I needed an emergency change due to one of my 60% worn tyres suddenly going dead flat on a busy highway. Rolled into a side street to luckily find a tyre place there! Told them was in a rush and needed a quick fix - too damaged for repairs as I had driven on the flat, they suggested the 'cheap' Brand option. $179AU each. Told them to chuck them on.
As I left, roads were dry - I pushed a little around corners (just turning a little bit harder than normal every day driving) - I found no noticeable concern.
WET SURFACE: On my way back home it was pouring - and that's where the concern lies - these tyres do not drive through shallow but stagnant water well, at all. At the Australian freeway speed limit of 100kph, these fronts were not safe. The car would suddenly drop about 5 to 10kph hitting those little puddles! I had to vary my speed down to 70 / 80kph if I noticed these puddles ahead...
This cheap option was Ok for that emergency from a small shop yesterday, but for wet safety reasons, I wouldn't venture for that brand again.
I have to say though, when there were NO PUDDLES, wet cornering was quite stable even when pushing a little by sharp turning those right angled street corners... but I wouldn't want to test a sweeping corner at 100kph in the wet.
Latest Sailun Atrezzo SH402 Reviews
Have you driven on the Sailun Atrezzo SH402 tyre?
Have YOU got experience with the Sailun Atrezzo SH402? Help millions of other tyre buyers
Comfort, very hard-wearing, and good fuel economy. Surely will buy again.
Given
84%
while driving a
Subaru
(225/55 R17 H) on
mostly country roads
for 10,000
spirited
miles
Got these tires of spring 2018 after reading mixed reviews. Some good some not so. Even some top name tires have terrible reviews so I took a chance with the Sailun. I purchased 2 sets for our Subaru's. I have now driven 10,000 miles on both vehicles and the tires are showing even wear and are balanced well. I drive them aggressively on the Forester XT turbo and they are excellent in the dry blasting through the twisties on country roads, braking is also good, even wet roads pose no issues. I was very impressed and didn't slip once. I have taken them offroad in the Outback and driven down rocky trails that you'd cringe at expecting a puncture any time, but they have been brilliant, maybe I have just been very lucky. So the 10,000 miles I have driven so far on these tires have been super smooth, comfortable and quiet. However, as the mileage I have driven on the tires now in these two Subaru's is very close, both sets of tires have just started to make that humming and droning sound at about 25mph, some road surfaces lessen the noise, in fact, some recently new tarmac roads are the noisiest! So noisy that I thought both rear wheel bearings had gone bad in both vehicles! It also resembles a noise similar to a "boomy exhaust note".So I gave a 5 rating for the tire comfort due to the noise they are making after 10K miles, however they are a very smooth riding tire and were super quiet for the first 10K miles, it's just the noise issues now. Would I buy them again? maybe, they were definitely an excellent price at the time. As far as saying these are Terrible and "do not buy these tires" comments I read, I have not had the bad experiences such as blowouts and slipping in the wet etc... as some owners are describing. One set of reviews that helped me purchase these tires initially were the excellent reviews on the Subaru owners club here in North America. Wrx owners commented on their excellent grip and wear qualities. I can attest to those qualities myself now.
Given
80%
while driving a
Ford AU Falcon
(225/60 R16) on
a combination of roads
for 0
spirited
miles
I Bought these Tyres brand new in Western Australia for my epic road trip around Australia.
These Tyres have been up the west coast coast to Broome, then across the Kimberly's , a little off road here and there, up to Darwin , down to Alice Springs , and Uluru etc ,
then back across the Nullabour .....
so its been about 30,000km i've done in these Tyres and their still going very strong.
i am very impressed how they have handled and the punishment they have been through .
In 3 days going 120km\h for 13hr a day , only stopping for fuel and toilet break , it pushed them to their limit through the Northern Territory back to Western Australia ...
i feel very lucky these Tyres haven't let me down
No Pun Attended lol
Given
31%
while driving a
Renault Clio 172
(225/45 R17) on
a combination of roads
for 12,000
average
miles
I purchased a Renault hot hatch and it came with a new set of these tyres. General driving in the dry is ok, they're a bit splashy. Wet weather cornering is apalling, wet weather braking is shocking and wear is bad. These tyres are rubbish and dangerous. Exiting a motorway on a sweeping right hand corner my car simply didn't turn an it just slid straight. This is now happening frequently. These should not be legal they"re dangerous
Given
94%
while driving a
Holden commodore
(225/60 R15 H) on
a combination of roads
for 15,000
spirited
miles
I have a Commodore Wagon with 225/60/15's.Was previously running Maxxis tyres which lacked grip and squealed in corners and bends.Went to my local Tyre Power and they fitted the Sailun's at $100 each. Wow so impressed for a cheap tyre,quiet,good handling, comfortable and great handling. My wife was also impressed much better than more expensive brands like Bridgestone,Khumo etc. Will definitely purchase again