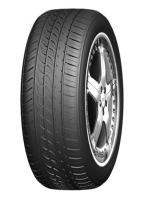 The Autogrip P308 is a Touring Summer tyre designed to be fitted to Passenger Car
Show All
Tyre review data from 21 tyre reviews averaging 60% over 89,018 miles driven.
Sorry, we don't currently have any magazine tyre tests for the Autogrip P308
Sorry, we don't currently have any label data for the Autogrip P308
Sorry, we don't currently have any questions and answers for the Autogrip P308. Why not submit a question to our tyre experts using the form below!
Ask a question
We will never publish or share your email address
Top Autogrip P308 Review
Given
76%
while driving a
Volvo V40 Estate
(215/45 R17) on
a combination of roads
for 3,000
average
miles
I bought these tyres to replace some Runway Performance 926 tyres that had worn badly due to tracking problems, and I have to say the difference is very noticable.

Autogrip P308 in comparison to Runway Performance 926 tyres wear better, have a stiffer sidewall, lower road noise, better dry grip and wet grip by a considerable margin and are far more progressive. Also they have a very useful rim lip overlap that protects the rim well from curbing and scuffing. I am well pleased with these tyres for the cost vs performance.

However, the Autogrip P308 is not an expensive tyre and this shows in several areas. To start the wet highlights the drawbacks in tread and compound; it is slower to stop from speed and corners less well than more expensive brands, however as a budget brand this is understandable, and it still performs very safely.

At high speeds the tyre isn't as balanced as it should be, with vibration beginning to set in as you approach an indicated 75mph, however this is mild. For this reason I wouldn't reccomend this tyre for fleet car work, but for mixed driving or town work this tyre is an excellent compromise.

Grip when cornering is surprisingly good, the feel is progressive and the vehicle controllable as you approach the limit. This is aided by the strong sidewalls which I am genuinely impressed with.

Rolling resistance appears to be very good considering the high dry grip levels, as my fuel economy has actually noticably improved since fitting these tyres, while the Runway Performance 926 tyres were awful in this regard, I'd say an approximate 5% increase in mixed driving over the last 2500 miles.

Overall I would return to the Autogrip P308 as it really is exceptionally good for the price, but I would always prefer a Hankook or Khumo to these.
Latest Autogrip P308 Reviews
Have you driven on the Autogrip P308 tyre?
Have YOU got experience with the Autogrip P308? Help millions of other tyre buyers
Dreadful tyre in the wet. I bought the car with these recently fitted and they were so bad in the wet, I chose to remove them and replace with Bridgestones. Yes they were double the price of Autogrip, and there are thousands of miles of wear still available on the Autogrips, However I will not compromise on Tyres or brakes and I consider these tyres dangerous.
I would NEVER fit these to my car
EXCELLENT TYRE BOTH ON WET AND DRY WEATHER, I HAVE MY SECOND SET OF TIRES FITTED ON AND ON THE FIRST SET I HAVE GOT 73251KM , I AM ALREADY OVER 40 000KM ON THE SECOND SET AND IT STILL HAS ENOUGH THREAD, THERE IS NO VIBRATION AS I CONSTANTLY ROTATE MY TIRES EVERY 10 000KM
Given
22%
while driving a
BMW 320i Msport
(255/35 R18) on
mostly motorways
for 80
average
miles
Those are the worst an dangerous tires ive ever put on my car... Highway driving is ok on a dry day till I hit a curve the car Wobbles have to correct the steering just to hold my line like I'm trying to drift..had the traction control light turning at crusing speed. Had to return them in less than 48 hours after buying them, an spend a bit more for a well know brand... tires seem flat an the firewalls are too soft... These tires a cheap for a reason if u value your life and your family stay well clear of them
Given
59%
while driving a
BMW 320i
(205/55 R16) on
a combination of roads
for 3,000
easy going
miles
This feedback in on Autogrip P308 Plus.
I found them on the car a bought. First impression is that the shoulder of this tyre is very soft: even though the pressure is at the max load (as permitted by BMW) the tyres seems flat and it's not a matter of puncture or else, since I check the pressure every month. For this reason, the response of the steering is slow and the handling is not good. It's a good tyre in terms of grip on dry and sufficient on wet, as long as you drive at a decent speed on highway when wet; with a sport driving and at high speed it loose grip and goes on aquaplaning faster than other tyres. Noise is quite good and wear for now seems OK. There are better tyres for same price or less.
Given
57%
while driving a
Ford Focus
(225/40 R18) on
a combination of roads
for 1,000 miles
Tyres are fine if you live in a warm dry climate. Soon as roafs are wet, traction is gone. Pulling away, stopping, roundabouts all scary as shit