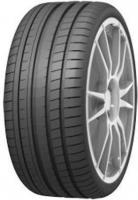 The Infinity Ecomax is a High Performance Summer tyre designed to be fitted to Passenger Car
Show All
Tyre review data from 24 tyre reviews averaging 75% over 246,220 miles driven.
Latest Group Test Results
2020 Tyre Market Overview Braking Test - 21st of 49 tyres
View All Tests >>
| Size | Fuel | Wet | Noise | Weight |
| --- | --- | --- | --- | --- |
| 245/40 R18 97Y XL | E | C | 72 | |
Sorry, we don't currently have any questions and answers for the Infinity Ecomax. Why not submit a question to our tyre experts using the form below!
Ask a question
We will never publish or share your email address
Top Infinity Ecomax Review
Given
80%
while driving a
MG ZT T (190)
(235/45 R18) on
a combination of roads
for 0
spirited
miles
I´ve got 4 of these on my MG ZTT 190 and they are great. Silent and grippy... I´ve had to do a full emergency break at one time from 90km/h and they sure did handle the awesome breaking power of the MG ZTT.


Latest Infinity Ecomax Reviews
Have you driven on the Infinity Ecomax tyre?
Have YOU got experience with the Infinity Ecomax? Help millions of other tyre buyers
Given
77%
while driving a
Skoda MK1 Octavia VRS
(225/40 R18 W) on
a combination of roads
for 13,000
spirited
miles
The Infinity Ecomax replaced the Pirelli Zero Nero.
After 600 miles they are ready to get the best of them.
In the dry they are good from 1st gear. When cornering i feel the soft sidewalls(fitted polyrethane silent blocks).In the wet I find I have to warm the tyre up with 1-2 miles of careful driving before being spirited.
Ware: After 13000 miles seems to have about 10000 miles more.
The noise in the cabin is acceptable.
Pirelli's was better except wear.
I get these fitted and balanced 260 euros, allmost 200 euros cheaper than Pirelli's.
It's good tyres and i'm thinking buying them again.
Given
89%
while driving a
Mazda 2 SP
(205/50 R17) on
mostly motorways
for 20,000
average
miles
Just purchased another set of these tyres as when I purchased my car it had a set on. The ride was good grip was great in dry and wet excellent choice for the price.
Given
86%
while driving a
BMW 330CI M Sport
(255/35 R18 W) on
a combination of roads
for 10,000
spirited
miles
I've had 255 35 18 rears and 225 40 18 fronts for the past 5 years, going through two complete sets of rears and one set of fronts. Both front and rear are shortly in need of replacing. In that time I've covered about 25,000miles on a mix of motorway and Welsh winding A-roads.

I only gave these tyres a 7 for wet grip, it's actually closer to 7.5/10 or 8/10 for daily wet driving but I've had two really serious aquaplaning events which had there have been an oncoming car, I'd a-bin-a-gonner for sure. I was driving at 60mph, in the dark, on a bend and there was a flooded road stream crossing/flowing from left to right so I'm not sure that many tyres would have coped in those conditions. Maybe driver error not the tyre's fault.

Ok, enough of the negative! In the dry, 231bhp rear wheel drive is well under the threshold of these tyres. As you go from 7.5mm new depth to 3mm, the tyres just get better and better on steep bends. I'm now taking some of the bends at silly speeds (85, 90, 95). These give me more and more confidence every day to push it that little bit extra. My most enjoyable times have been versus Subaru Impreza 4x4 who I could not shift despite nearly reaching these tyre's limits. The second was me chasing an Audi quatro 3.0 v6 diesel. He couldn't shift me. Mid-Wales roads.

I first came to know about Infinity Ecomax through buying a set of wheels from a chap who had them fitted to his BMW 135M. He told me that they had served him well and there were no scare stories about the tyres. Having had quite a lot of experience with this brand and model, I can safely say that I would be advising friends and family to buy without hesitation.

I've just completed a mid-life BMW underbody refresh, replacing suspension parts, breaking system, hubs, barings, diff oil, transmission oil, brake fluid, power steering, coolant, engine oil. De-rust body panels, new paint where needed, brake lines and hoses, intake hoses and abs sensors all round. Finally, poly bushes on control arms, front and rear anti-roll bars (sway bars). The Ecomax fit perfectly with this car having previously had contisport 2 all round and Uniroyal rainsport 2. I wouldn't go back to spending big-bucks when these Infinity tyres are my tyre of choice from now-on.

Road noise more than bearable. General handling good, wet handling, ok, wear good, breaking dry - brilliant. Wet, dont know as I've never had to emergency brake in the wet. I did an emergency stop to test my new components and set-up on 15 May 2019, they were sublime in the dry. Obviously not just the tyres; the whole car of which the tyres are a major part! Thanks for reading.
Given
83%
while driving a
Vauxhall 3.2 v6
(225/45 R17) on
a combination of roads
for 3,000
average
miles
Had a pair of these on the front of a V6 Omega for six months and can't fault them. Haven't tried to put me in a ditch yet. Having said that, neither have any other brands. Maybe it's the way people drive.
No sign of excessive wear and perform in wet and dry to a very satisfactory level.
On price - can't see any reason to spend more than the 50 pounds each that I paid for them.
Overall a cracking tyre which I would recommend to anyone on any car.