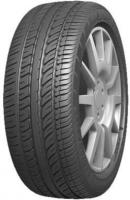 The Jinyu YU61 is a High Performance Summer tyre designed to be fitted to Passenger Car
Show All
Tyre review data from 44 tyre reviews averaging 73% over 321,400 miles driven.
Sorry, we don't currently have any magazine tyre tests for the Jinyu YU61
Sorry, we don't currently have any label data for the Jinyu YU61
Questions and Answers for the Jinyu YU61
2016-08-22 - What is the maximum tire pressure of my yu61 tires?
The maximum inflation pressure of the YU61 should be listed on the sidewall, however this is usually well above a pressure level suitable for a vehicle.
---
Ask a question
We will never publish or share your email address
Top Jinyu YU61 Review
Given
83%
while driving a
Ford Galaxy
(225/50 R17 W) on
a combination of roads
for 58,000
average
miles
HI there. I've using them on my 2008 Galaxy for last 58000 miles and they still at 3mm. Really good ones for heavy car. 225/50r17 Z Extra Load. At current they loosing a bit when wet so i decided to get new ones for next season. I did front/back swaps each 15000miles to get even wear and i keep them bit harder than recommended pressure to get better feedback. I'm very impressed overall as they were for 45 quid each and can say it loud: OM michelin energy saver i had before was overpriced rubbish (in grey colour - not even black) to compare.
Latest Jinyu YU61 Reviews
Have you driven on the Jinyu YU61 tyre?
Have YOU got experience with the Jinyu YU61? Help millions of other tyre buyers
Bought the car with these tires on. I can safely say these are the worst tyres I have had the displeasure of driving. The 5 series is a big car but to lose the front of the car on roundabouts with your family in is not funny. We don't drive the car hard and with these tires even less. I will be swapping them as soon as possible. Very poor performance and boarder line lethal in the wet. Would not recommend for anyone with a big car.
Given
69%
while driving a
Ford Kuga
(235/45 R19 W) on
mostly country roads
for 13,000
average
miles
Fitted Jinyu Yu61 due to price/reviews compared to original Continentals. Used on 150 bhp front wheel drive Kuga. Contis lasted 19000 miles but were an exellent tyre but at £190 each juzt too expensive albeit rears are now at 32000 miles and still have over 4ml left. Yu61 have been good, more susceptable to tramlining and grip/handling is dropping off with 3-4ml left. Would i buy them again?At the same price definitely.
Given
40%
while driving a
BMW 535d M Sport
(275/35 R19) on
a combination of roads
for 4,000 miles
OK in the dry but awful in the wet. Can't even accelerate gently at times. Wouldn't buy again.
BEST BUDGET TYRE IVE EVERY TRIED WHOOP
I had 4x new jinyu tyres fitted on my car as I was leaving for a long trip and could not get the other branded ones on time. I had to change on of the back tyre while I was away on holiday as it had a huge bump inner side due to broken mesh inside. When I got back its gone through MOT and the other tyre at the back again had a big crack which was changed again. Yesterday I just slightly hit the side of my back tyre to the kerb which would have been fine with any other brand but this is just split. very low quality to say the least. Steer well away and go buy something you can trust. This is the first and last time I am ever buying this budget s..t.